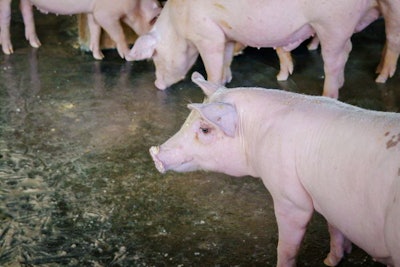 South Africa reports eight new cases, ASF detected at 31 Haitian locations
Latest outbreaks of African swine fever (ASF) in South Africa's domestic pigs have occurred in five provinces, affecting farms and village herds. Meanwhile, in the Caribbean region, the latest official report describes new cases at five locations in Haiti during mid-March, while other nations take steps to prevent the entry of the virus.
Since mid-April, authorities in South Africa have officially registered eight new ASF outbreaks among the nation's pigs.
Affected were total of almost 2,000 pigs in five provinces, according to notifications to the World Organization for Animal Health (WOAH; formerly OIE). Starting dates were between early January and May 20.
With WOAH, ASF outbreaks are reported in two separate series — Cape Town/Western Cape province and all other regions.
For the former series, pigs tested positive for the ASF virus after more than 100 of the 144 animals at a farm in Cape Town in late March. Then in mid-May, 146 cases were confirmed in two village herds in the Cape Winelands region of Western Cape. Affecting a total of 7,268, these latest outbreaks bring the total in Western Cape to 47 since February of 2021.
In South Africa's other provinces, the veterinary authority has registered a further eight ASF outbreaks over the past two months. Directly involved were 605 pigs.
Based on WOAH reports, four of the affected premises were in Gauteng, two in Mpumalanga, and one in each of Free State and the North West. While two of the outbreaks were in village pig herds, the other six were described as farms. Where this information was provided, each farm had between 74 and 154 animals.
Starting in April of 2019, this outbreak series has involved confirmed cases at 102 locations with 45,644 pigs.
ASF situation elsewhere in Africa
So far, no update has been provided on an ASF outbreak in Zambia. In this southern African state, two outbreaks were reported in early March of this year.
Around the same time, there were cases at four farms in the Ashanti district in Ghana in West Africa, according to local media.
Update on ASF in the Caribbean Region
Since the 1980s, the Dominican Republic and Haiti had been free of ASF until last year. These two nations are located on the Greater Antilles island of Hispaniola.
Based on the most recent WOAH notification from Haiti, pigs have so far tested positive for the ASF virus at 31 locations. Most recent cases to be reported started in mid-March, and affected 320 pigs.
Since the nation's first cases were detected in August of 2021, a total of 602 pigs have been directly impacted by the disease. With at least one outbreak in eight of the nation's 10 departments, the virus has already spread widely within the territory.
Latest official report to WOAH from the neighboring state of the Dominican Republic was in mid-February. At that time, total confirmed outbreaks had reached 224, with the most recent cases detected in early January of this year. By then, outbreaks had affected more than 18,000 pigs in 26 of the country's 32 administrative regions.
With the relatively close proximity of ASF in these two nations, U.S. authorities have recently announced new efforts to prevent the entry and spread of the disease. Last week, the "Protect Our Pigs" campaign was launched to support commercial pork producers and others with resources to safeguard America's swine population and the pork industry.
Last month, the government of Barbados also took steps to protect its pork industry. New legislation gives the Veterinary Service the power to ban imports of pork products from any area that presents a risk, reported Barbados Today.
View our continuing coverage of the global African swine fever situation.