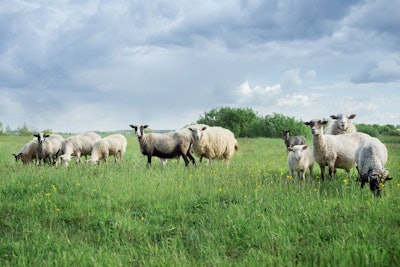 Facility investigation and feed recall resulted from the copper poisoning of several sheep in December 2021
The U.S. Food and Drug Administration (FDA) has issued a warning letter to a Kansas animal feed manufacturer after it conducted an investigation stemming from the death or illness of several sheep due to copper poisoning.
FDA inspected Valley View Milling L.L.C.'s Seneca, Kansas, facility in December 2021 as a follow-up to complaints received by the Kansas Department of Agriculture (KDA) of copper poisoning from feed for sheep resulting in the death or injury to several sheep.
According to the warning letter, the KDA collected a sample of Valley View's Custom Ewe Feed ClariFly medicated feed and had it analyzed by the Nebraska Department of Agriculture Laboratory. The sample was collected from five closed bags of food for sheep found at a farm where the customer had experienced sheep death and injury. Analytical results from the KDA sample identified elevated levels of copper at 155.6 parts per million (ppm), which is a level that would cause acute toxicity in sheep.
The recognized maximum tolerable level of copper in food for sheep is 15 ppm on a dry matter basis, assuming normal concentrations of molybdenum and sulfur. The elevated level of copper found in the product causes it to be adulterated because it reasonably may be fatal or injurious to the health of sheep.
On December 8, 2021, the company initiated a voluntary Class 1 recall of three feed products for sheep due to excessive levels of copper. FDA inspected the facility from December 7 to 16.
"During our inspection, the FDA Investigator found evidence of significant violations of the Current Good Manufacturing Practice, Hazard Analysis, and Risk-Based Preventive Controls for Food for Animals requirements, Title 21, Code of Federal Regulations, Part 507 (21 CFR part 507) which also cause your products to be adulterated," FDA said in the warning letter. "The introduction or delivery for introduction into interstate commerce of any food that is adulterated or misbranded is a prohibited act. Furthermore, failure of the owner, operator, or agent in charge of a covered facility to comply with the preventive controls provisions of 21 CFR part 507 (located in subparts A, C, D, E, and F of Part 507) is also a prohibited act."
In an email response to FDA on December 24, 2021, Valley View acknowledged that it failed to follow safety programs and that it is refining its system to better follow safety measures and is retraining employees. However, FDA said it did not receive supporting documentation to demonstrate this.
FDA also said it found Valley View's aflatoxin management program for corn was not robust enough to prevent mycotoxin hazards from occurring.
"Without regular, adequate testing, the program does not adequately reduce the probability of mycotoxin presence upon receipt of the regular corn and during storage for both regular and organic corn, in the absence of preventive controls," the letter said. "Considering that you manufacture food for aflatoxin-sensitive animals, such as chickens, horses, and immature animals, a robust prerequisite program, consistently implemented, would be an important element of your food safety plan."
FDA said Valley View's response stating corrective actions did not include sufficient details for FDA to fully evaluate them.
Finally, FDA said Valley View did not conduct a hazard analysis to "adequately identify and evaluate the known or reasonably foreseeable hazards of fumonisin and deoxynivalenol (DON or vomitoxin) for all grains and their co-products used as ingredients at your facility that are susceptible to fumonisin and vomitoxin. Furthermore, you did not adequately identify and evaluate the known or reasonably foreseeable hazards of aflatoxin in grains and grain co-products used as ingredients at your facility that are susceptible to aflatoxin. Your hazard analysis identifies and evaluates 'mycotoxins' — clarified during the inspection to be aflatoxin only — in corn (regular and organic) only. Furthermore, your hazard evaluation does not take into account the possibility of mycotoxin development during storage at your facility."
Valley View said it was in the process of determining how to best address this. FDA instructed Valley View to notify it of specific steps it has taken to correct any violations within 15 days of receipt of the letter, which was dated May 17 and posted to FDA's website on June 7.
Valley View Milling produces feed and other products for hogs, beef and dairy cattle, layer and broiler chickens, goats and deer, according to its website.