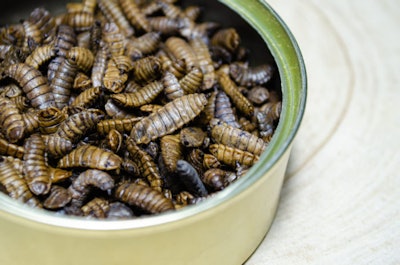 Partners from the Netherlands are supporting the East African state's exploration of novel protein sources for poultry, pigs, cattle and fish.
In Tanzania, a preliminary study has identified several underused protein materials that may have potential for inclusion in feeds for farm animals, including aquaculture.
According to one of the partners in the project, Larive International, the most promising ingredients are blood meal from cattle, black soldier fly larvae, brewers' yeast and cashew nut waste.
Not only are these materials suitable as feed ingredients in terms of their quality, consistency, availability, growth potential and, crucially, price. As well as the absence of anti-nutritional factors, these ingredients can also contribute to developing a circular economy.
Tanzania lacks sufficient home-produced feed ingredients
According to advisory and finance strategy firm Larive International, the production of animal proteins — such as meat, milk, eggs and fish — in Tanzania is constrained by the availability of locally produced feed ingredients. Feed manufacturers rely on a narrow range of materials, and they are heavily dependent on imports. These features make their businesses vulnerable to disruptions in supply chains and price volatility.
What was needed to help create a more economically sustainable model for the country's feed sector was support from one or more partners. Tanzanian enterprises such as Larive saw in the Netherlands long experience in feed production and the trading of raw materials. Furthermore, Dutch companies in the industry have a history in processing ingredients. Last but not least, several Dutch-based enterprises already have established businesses in the country or elsewhere in East Africa.
For this project, European expertise is provided by the Netherlands Enterprise Agency and the Embassy of the Kingdom of the Netherlands in Dar es Salaam. As well as Larive International, local partners are Lattice Aquaculture and Transcend. Based in Kenya, Lattice Aquaculture is part of Lattice Consulting, specializing in aquaculture development in East Africa.
While the initial findings of the study were presented in January, the scheduled date for the publication of the full report is March 2022.
Animal protein supply, demand
According to Larive International, poultry, beef, pork and fish are the most consumed proteins in Tanzania. It offers the following estimates for domestic production: poultry, 103,000 metric tons (mt); beef, 508,000 mt; pork,38,400 mt; and fish, 365,000 mt.
To support the expected rapid expansion of the poultry industry alone, 18 million metric tons will be required annually by 2050. However, animal feed production is seen as the main constraint to achieving this expansion in domestic animal protein production.
Tanzania relies mainly on fish meal and soybean meal to provide the protein in livestock feeds, reports Larive. Historically, most of the soy has been imported from Zambia and Malawi, but supplies are increasingly tight, and prices have risen sharply.
Last year, a further increase in the nation's demand for poultry was forecast by the U.S. Department of Agriculture Foreign Agricultural Service.
According to this source, 70% of home-produced feed in Tanzania comprises corn — often grown on the same farm — and a protein concentrate. If domestic poultry meat production expands as forecast, so too will be Tanzanian demand for corn and other feed ingredients. Also competing for resources is white corn, which is a food staple in many parts of the country.
Meat and fish farming in Tanzania
For the United Republic of Tanzania, annual domestic meat output is as follows: beef, 487,000 mt; chicken meat, 87,000 mt; and pig meat, 15,000 mt. These are the latest figures from the statistics arm of the United Nations Food and Agriculture Organization (FAO), FAOstat, covering 2020.
Most recent data on the nation's aquaculture published by the FAO's Fisheries and Aquaculture group is for 2019. At that time, Tanzanian total annual production amounted to 16,600 mt in total fish, shellfish and mollusks. Value of this output was estimated at around US$62 million.
Of the total, more than 15,400 mt was in the form of Nile tilapia (Oreochromis niloticus). Other farmed species were African catfish (Clarias gariepinus; 790 mt), and giant tiger prawn (Penaeus monodon; 336 mt). In addition, the nation's output of 1,450 mt of aquatic plants in 2019 was worth an estimated US$380,000.