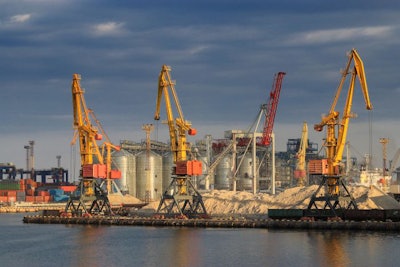 Crew are safe and vessel is still seaworthy, company says
Cargill said a vessel it chartered was hit by a projectile in the Black Sea on February 24 as Russian military forces invaded Ukraine.
According to a Cargill spokesperson, the crew are all safe and accounted for and the vessel was still seaworthy. The spokesperson did not disclose what type of cargo the vessel was carrying nor where it was en route to or from. Cargill operates several locations in Russia and Ukraine, both major grain producers and exporters in the region.
Also on Thursday, Bunge said it had closed its offices in Ukraine and suspended operations at two oilseed crushing units in Nikolaev and Dnipro. Bunge employs more than 1,000 people in the country and also owns and operates grain elevators and an export terminal in Ukraine, as well as a corn milling plant via a joint venture.
Reuters reported that ADM's Ukraine facilities, including an Odessa export terminal, were not operating, and that shipping giant Maersk had halted all port calls in Ukraine until the end of February and closed its main office in Odessa.
Reports said Ukraine's military had closed commercial shipping at its ports on Thursday, while Russia had ordered the Azov Sea closed to commercial vessels.
Meanwhile, CNN reported on Friday that China had relaxed restrictions on imports of Russian wheat, "a move that could address food security concerns in the world's second largest economy and ease the impact of Western sanctions on Russia."
According to Reuters, Ukraine exports 5 million to 6 million tons of grain per month. Together, Russia and Ukraine account for 29% of global wheat exports and 19% of corn exports.