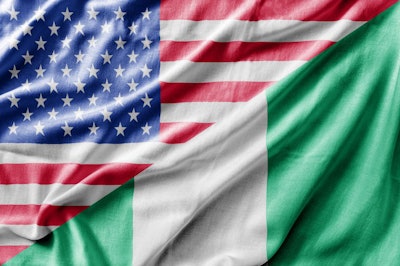 US can now export sausage and similar products to the West African country
Nigeria will allow the import of some U.S. pork products, a move that could pave the way for more access for the U.S. pork industry.
The U.S. can now export sausage and similar products to Nigeria, which announced on January 12 that it was partially opening its market to U.S. pork.
"Nigeria has the largest GDP of any African country, with a population of just over 211 million. We are excited to be the first U.S. protein to be allowed access to the Nigerian market," said National Pork Producers Council (NPPC) President Jen Sorenson. "NPPC thanks the U.S. Department of Agriculture and the government of the Federal Republic of Nigeria for their efforts to reach an agreement that allows the U.S. pork industry to provide affordable, wholesome and nutritious products to Nigerian consumers."
U.S. poultry and beef remain ineligible for export to Nigeria.
The announcement from Nigeria comes just weeks after India began accepting U.S. pork and pork product imports. U.S. pork market access to the Indian market had been restricted because the two countries did not have a bilaterally agreed upon export certificate or protocol for importing U.S. pork and pork products into India, according to a 2021 report by the U.S. Trade Representative. In November 2021, the U.S. and India said they "agreed to work to finalize the mutually agreed export certificate to allow the importation of U.S. pork and pork products."
The NPPC had sought a trade agreement with India, saying "India is the largest beneficiary recipient nation of the U.S. Generalized System of Preferences Program. The United States has a large trade deficit and services deficit with India. It is time for reciprocity in the U.S.-India trade relationship."
The U.S. pork industry in 2021 (through November) exported more than $7.5 billion of product to more than 100 countries.