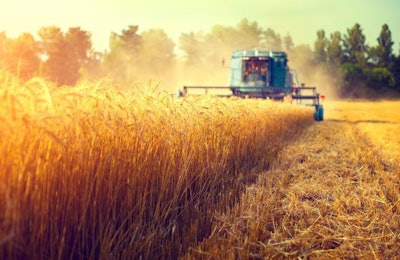 Shrinking pork, beef output could overshadow growth in poultry, organic milk sectors
A new report says lower animal feed use in the European Union (EU) is expected to bring about a shrinking of the area used for growing arable crops in the region, and forecasts that reductions in pork and beef production in the EU will likely overshadow growth in the poultry and organic milk sectors.
These are among the leading conclusions of the latest "EU agricultural outlook for markets, income and environment, 2021-2031."
Latest in this annual series from the European Commission (EC) Directorate-General Agriculture and Rural Development in Brussels, this new report covers the coming 10-year period. With the uncertainties relating to many aspects covered by the report, the publishers state that this medium-term outlook should be viewed as a baseline. Its primary purpose is to set a basis for comparison of the expected policy impacts that will be included in subsequent editions, the EC states.
Key developments forecast for the arable and feed sectors
By the end of the review period, it is expected that the forest area of the EU will exceed that of agricultural land, according to the report.
With livestock and poultry feed use across the bloc expected to decline in the next decade, grain (cereal) production is likely to fall. However, the EC expects the environmental benefits of protein crops to drive their production in the coming years.
Meanwhile, conversion of conventional land to organic farming is forecast to continue until 2031. By that year, 15% of all EU agricultural land could be under organic production, the EC forecasts. And this projection does not take into account the additional support coming from the new Common Agricultural Policy, which is yet to be implemented.
Decline in EU grain production
Compared with the current season, EU grain production is expected to fall over the next decade. Forecast for 2031 is an overall harvest of 276 million metric tons (mmt). Arising from the reduced agricultural area and lower yields, this is approximately 2.5% less than in the current year.
By 2031, overall grain use in the region could be down by 2.7% at just under 255 mmt, with the decline in demand for feed as the main driver. While forecast to continue in the coming year, exports are likely to face strong competition from other producers.
Increased area, yields for protein crops
In contrast, the area for the cultivation of protein crops is forecast to increase by 19% over the coming decade. Furthermore, yields could be up by as much as 14% as the result of their perceived agronomic benefits and market potential. In combination, these factors could lead to a 33% increase in EU production over the outlook period to 5.2 mmt. Nevertheless, consumption of these crops looks set to rise to 5.6 mmt by 2031. This represents an increase of 14% compared with the 2021 level.
This category includes potential feed ingredients such as peas and beans, as well as lentils, chickpeas and other pulses mainly for human consumption. So far, farmers have held back on the cultivations of some of these crops, because of variable yields, and a lack of suitable varieties, according to the EC.
Mixed trends for oilseed cultivation in the EU
For oilseed crops, the area under cultivation is expected to be around 10.7 million hectares (26.4 million acres) by 2031. Initially, EC forecasts, the area will expand. However, this is expected to decline again as a result of shrinking demand for the oils and for animal feed. At 32.1 mmt, peak production is expected around 2027, falling back to 31.2 mmt by 2031.
According to the medium-term outlook, the area used for the cultivation of rapeseed looks set to peak in the next few years, and then decline in line with slowing demand for feed use. Meanwhile, growth in demand for non-GM soy for human foods and a growing organic dairy herd are likely to increase the area used to soybean production.
Despite these forecast trends and the decline in demand for meals, the EC expects oilseed crushing in the region to remain generally stable.
Decline in overall EU feed demand
According to the report, demand for livestock feed in the region is expected to decline over the coming years.
This trend is linked to a forecast decline of around 8% in pork production, combined an expected contraction in the suckler beef and dairy herds. Furthermore, prices are likely to rise, and genetic improvements will help support greater feed efficiencies.
In contrast, the EC is forecasting growth in poultry production, as well as a projection continuation in milk production.
As those states with lower yields continue to close the gap with more efficient dairy producers, the organic milk sector is expected to strengthen over the outlook period. As a result, grass will likely make up an increasing share of total feed protein consumption.
Total feed use in the region is projected to fall by more than 4% from the present level to 39.1 mmt in protein equivalent by 2031.
Evolution in EU feed composition
In the report are outlined the trends in the use of selected grains in EU feeds over time.
For wheat, the amounts used in animal nutrition is lower in 2021 (around 40 mmt) than 10 years previously (almost 50 mmt). By 2031, this decline is forecast to continue to around 36 mmt. At lower levels but following a similar trend is the use of barley — from 35 mmt 10 years ago to about 30 mmt by 2031.
In contrast, corn use rose from 50 mmt in 2011 to the current level of around 64 mmt. By 2031, EC expects this level to be maintained.
Driven by a reduction of around 7.8 mmt in grain use in feed, the use of low-protein feeds looks likely to fall by 4.3% over the coming 10 years. EC defines this category of ingredients as those containing less than 15% protein, and it excludes grass.
However, the reduction in high-protein feed ingredients could fall even further — by more than 5% — over the same period. According to the report, the fall will be driven by environmental concerns over soybean imports, as well as rising prices.
For medium-protein materials — with a protein content of 15-30% — utilization in feeds is forecast to rise by more than 4%.
Projected trends in feed ingredient prices
According to the EC forecast, grain prices may reach as peak in 2021 in the region. Following a slight decline, they are expected to rise again between 2024 and 2031.
While low-protein raw materials are likely to follow a similar trend, prices of those with a medium protein content are forecast to commence an upward prices trend as early as 2023.
Throughout the outlook period, high-protein ingredients are expected to remain more expensive than in previous decades.