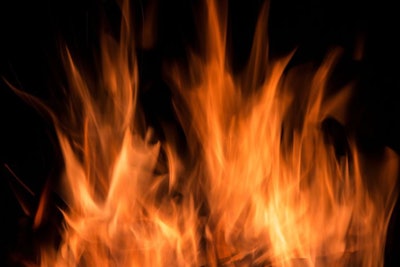 Emergency responders were able to prevent fire from spreading throughout facility
One person was injured in an explosion at a Sanderson Farms feed mill in Collins, Mississippi, on December 13.
According to the Collins Fire Department's (CFD) Facebook page, the explosion occurred shortly after 9:30 a.m. in a boiler room area of the facility. CFD said there was heavy fire and smoke and that, when first responders arrived, the gas main was still flowing and burning heavily.
Emergency medical service crews made contact with the injured person and began treatment and transported the person to the hospital.
"The area of fire was heavily fuel fed, but crews were able to quickly capture and valve out the gas main and gain control and effect extinguishment of the fire," CFD said on its Facebook page. "CFD attack crews were able to prevent extension of the fire into other areas of the feed mill facility."
CFD credited its relationship with Sanderson Farms and emergency preparations for the quick response.
"CFD has a very strong working relationship with the Sanderson Farms facilities and personnel and work very closely with them to be prepared for emergency incidents that might occur at these locations. Today, those relationships worked to prevent further injuries and to safely, quickly and effectively mitigate the incident," it said.
The scene was cleared in just over two hours.
According to reports, the feed mill will be offline while the incident is investigated.
Sanderson Farms has not yet responded to Feed Strategy's request for more information.
According to WATTPoultry's Top Poultry Companies directory, Sanderson Farms is the third largest poultry producer in the U.S., with 632 million head slaughtered annually. According to Feed Strategy's Top Feed Companies database, it has nine feed mills that produced 4 million metric tons of feed in 2020 for its vertically integrated operations. The company employs more than 17,000 workers and had annual revenue of US$3.56 million in 2020.