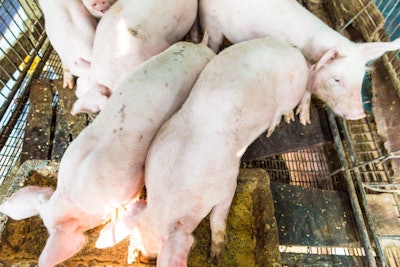 The Philippines and Vietnam have reported recent cases in domestic pigs
Among domestic pigs in Europe, the number of confirmed outbreaks of African swine fever (ASF) so far this year now stands at 1,082. The total compares with 1,908 for the whole of 2019.
Recorded through the Animal Disease Notification System (ADNS) of the European Commission (EC) for the year to November 15, the total has risen by 23 from the previous week. All these latest outbreaks were in Romania.
According to ADNS, 10 European states have registered ASF cases in 2020. Over the past month, only three countries have confirmed new cases in farmed pigs — Poland, Ukraine and Romania.
Further cases in European wild boar
Within Europe, ASF has become more widespread among wild boar. So far in 2020, 14 states have confirmed such cases to the EC — with outbreaks during the month of November in 10 countries so far. The total for the year has reached 9,458, an increase of 170 cases from the previous week.
According to this source, Hungary has recorded the most outbreaks — 3,703 — so far this year, which is an increase of 38 for the week. Now at 3,570, Poland's total has risen by 64 over the same period.
Also registering new ASF cases in wild boar with the EC since the start of November were Romania (734 positive cases so far this year), Bulgaria (450), Latvia (259), Slovakia (221), Lithuania (196), Germany (152), Estonia (60) and Italy (35). Location of the latest Italian cases is not reported. However, there is a long-running scheme to eradicate the disease on the island of Sardinia.
Over the past week, three European countries have officially registered new cases of ASF in wild boar with the World Organisation for Animal Health (OIE). They were Hungary (38 animals), Germany (11) and Latvia (8).
Since September, the number of cases in German wild boar has been rising steadily. The total has now reached 170, according to national veterinary agency, the Friedrich-Loeffler Institute. The great majority of these cases have been located in Brandenburg, an eastern state that borders Poland. Since the end of October, ASF has also been detected in cases in one district of neighboring Saxony.
No cases have so far been reported among the German domestic pig population.
This month, the agriculture ministers of Germany, Poland and the Czech Republic agreed to cooperate on the control of ASF.
More ASF in South Korean wild boar
During the second week of November, 12 wild boar in South Korea tested positive for the ASF virus. According to the official report to the OIE, all the animals were found in districts of Gangwon province where previous wild boar have been found to be infected since September 2019.
More pigs culled in The Philippines
ASF has now struck 22 provinces on the island of Luzon, according to the provincial governor of Cebu. Part of Central Visayas region, Cebu remains free of ASF, reports Philippine News Agency (PNA). Because some hotels remain closed due to COVID-19, Cebu has abundant supplies of pork, she said. Imports of live pigs and pork products from ASF-infected regions have been banned since September 2019.
In a separate report, PNA states that the regions of Western Visayas, Northern Mindanao, Caraga, Zamboanga and the Autonomous Region of Muslim Mindanao are also ASF-free.
However, an update in MindaNews refers to a recent outbreak in a village near Iligan City, which is in Northern Mindanao. More than 660 pigs from a number of backyard herds have been culled to prevent the spread of the disease. This region ranks third in terms of national pork production.
Outbreaks reported in Vietnam
In the Mekong Delta region of southern Vietnam, cases of ASF continue to be reported sporadically.
This month, two outbreaks were confirmed in small pig herds in Long An province, according to Vietnam News. First signs were mortalities in one herd. Approximately half of the pigs in a second herd were destroyed after they tested positive for the virus. The rest were saved, and were "being monitored."
In order to contain the spread of infection, officials are disinfecting pig farms, markets and slaughterhouses in the area. They are also assisting with the burial of culled animals.
Farmers in Nigeria receive training on biosecurity
This year, ASF led to estimated losses of up to 100,000 pigs in Nigeria, reports Leadership. Worst affected have been the states of Ogun and Lagos — where mortalities almost wiped out pig production at a large cooperative farm at Oke-Aro.
Focusing on farm biosecurity, recent training courses on ASF offered by the United Nations' Food and Agriculture Organization (FAO) have been welcomed by participants.
View our continuing coverage of the global African swine fever situation.