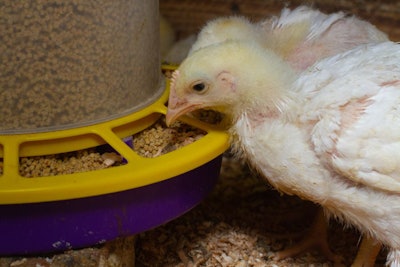 Despite COVID-19-related challenges and expected rising feed costs, USDA forecasts modest growth in US meat and poultry production for 2020 and 2021
The U.S. Department of Agriculture (USDA) is forecasting continued growth for U.S. meat and poultry production in 2021, but feed prices are expected to rise as well.
According to Mark Jekanowski, USDA outlook board chairman, the total meat and poultry production in the U.S. for 2020 is expected to be 106.6 billion pounds.
"Next year, we see that going up by a little less than a billion pounds to 107.47 billion pounds," he said.
2020 broiler production is expected to be 3% higher than in 2019, at 44.7 billion pounds. Production is likely to continue to grow in 2021, but at a slower rate – closer to 1% – partly due to higher feed prices.
"Because of these higher feed prices that we're currently forecasting, we expect that expansion to slow a bit," Jekanowski said. "Even though we still have broiler production increasing next year, the fact is that the rate of increase is a little bit slower than what we had been anticipating."
This year's average broiler price is 19% below 2019, with a rebound predicted for 2021.
Turkey production this year expected to drop by about 1%, with a small increase in output expected next year, but not enough to return to 2019 levels.
Pork production is expected to increase 2%, despite challenges related to the COVID-19 pandemic. USDA's forecast for 2021 pork production has been adjusted down about 300 million pounds, with expected production next year to be just under 28.5 billion pounds, an expansion of about 1%.
This also reflects the probability of feed price increases next year.
"We anticipate that to be reflected potentially in lower carcass weights, and that pulls down the pork production forecast at bit," Jekanowski said.
Total U.S. beef output in 2020 will increase only slightly from 2019.
"For 2020, we have it currently pegged at 27.22 billion pounds, and we anticipate, for next year, that to grow to 27.37 billion pounds," an increase of about 0.5%, he said.