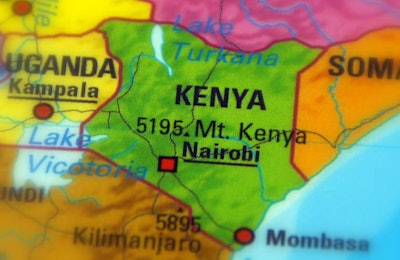 Among the latest developments aimed at supporting poultry production in the East African state are free distribution of high-quality feeds, and a community egg farming program.
Kenyan poultry farmers were feeling commercial pressure even before the coronavirus (COVID-19) pandemic. While the restrictions introduced to control the spread of the virus have forced many of them out of business, some new initiatives have the potential to help out this ailing sector.
In the central county of Kirinyaga, the local government is making available a feed mill for the production of quality poultry feeds for selected local farmers.
Until now, egg producers in the area have struggled to source feed for their hens, reports Kenya Broadcasting Corp. (KBC). Much of what was available was of poor quality from unscrupulous dealers, so local farmers were forced to accept lower market prices because their eggs were of variable quality.
However, the Kirinyaga authorities are making use of an animal feed mill at the county's Agricultural Training Center. Now, the unit is producing balanced feeds for poultry based on corn and local fish meal from omena, the Lake Victoria carp. Supported by modern feed formulations, the initiative also involves quality control and analytical services of the Kenya Bureau of Standards (KEBS).
Feed mill capacity and future expansion
Daily output of the mill is approximately 15.4 metric tons (mt) — or 220 bags of 70 kilos each.
So far, total production by the facility has reached more than 900 mt. First to benefit from the new feeds is the local community's egg program, which received the new diets free of charge, according to KBC. In time, other groups will benefit from the production, and feeds will be available to buy at subsidized prices.
Key to the success of the initiative is the training given to workers at the plant regarding appropriate storage, stock management, and pest control, according to Gov. Anne Waiguru. She added that the plant has the capacity to ramp up production volumes. As well as storage for feed ingredients and finished products, there is also an adequate handling area.
With the recent introduction of new standards by KEBS, Kenya has been taking steps toward a whole-chain approach to food safety.
Exploring the potential for more sustainable feed ingredients for its livestock, the country has been looking to increase the production of fodders and insect meal.
'One million eggs' project
Last month, Waiguru launched a new project to boost Kenyan food security.
Nation reported that 32 communities in Kirinyaga were chosen for a scheme aiming to produce one million eggs per month. Involving a total of more than 600 households, each of the community groups received 1,250 hens.
Details of the scheme have been matched to local needs. Obtained from a certified breeder, the birds were delivered as day-old chicks during May. Now mature, they have begun laying, and are expected to reach peak production later this month.
Initially, communities involved in the first phase of this project received quality feeds from the training center mill free of charge. After collection, the eggs are transported to cold storage facilities in nearby Kiaga. Here, they are packed and branded for sale in local markets. The project is supported by local veterinarians and livestock extension officers.
Main aims of the program are to increase agricultural output and margins in Kirinyaga, according to the governor. Particular focus of the scheme has been the county's women and young people. Income generated from egg sales will support families. As it is not unduly time consuming, participants are able to undertake additional work or study.
The next phase is scheduled to include 42 more communities.
According to the Nation, the broader strategic aim of the project is to fill Kenya's "huge deficit" in egg production. A long-term issue, this used to be solved by importing eggs from Uganda and Tanzania. While action by President Uhuru Kenyatta to halt illegal imports was successful, it led to a sudden egg shortage in Kenya.
Ironically, in 2012, Kenyan traders looked to Uganda to supply affordable eggs.
Kenyan broiler farmers call for reduced chicken imports
With Uganda exporting more than 100 mt of chicken meat to its East African neighbor each month, it is not only Kenya's domestic egg sector that is under pressure from imports.
More than 540,000 of the country's broiler producers have been forced out of business in recent months, reports The Star.
This situation was exacerbated during the COVID-19 restrictions, which shut down entirely or reduced the opening hours of most restaurants and fast-food outlets. With chicken a popular menu choice, Kenya's chicken farmers suddenly lost the majority of their regular market.
Particularly aggrieved at the continued imports of what they say is highly subsidized chicken, local farmers have scaled back their own production. Consequently, their workers are losing their jobs just as the country's unemployment rate is rising as a result of COVID-19.
According to The Star, one farmer called on the national government to speed up the harmonization of tariffs. This, he said, would end the flood of imports on the local market, Additionally, it would prioritize Kenya's food security through support of the country's producers.
Data from the United Nations' Food and Agriculture Organization (FAO) support the assertion that Kenya's chicken meat imports are rising sharply. According to FAOstat, the incoming volume was 792 mt in 2018, which is the most recent year for which data is published. This was up from just 75 mt in 2017. For shell eggs, imports were just over 1,000 mt in 2017 and 2018, which is significantly lower than the previous year.