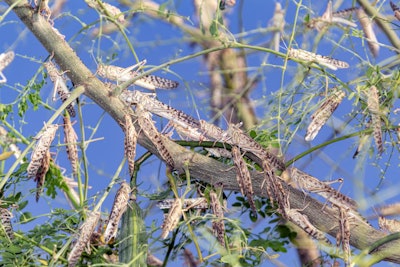 Widespread and growing swarms of locusts are devouring pasture, food and feed crops across Africa and Asia.
To celebrate their vital importance as pollinators, May 20 has been designated World Bee Day by the United Nations. While these insects are being recognized for their contribution to feeding the human population and enhancing the planet, another species is decimating crops in parts of Africa and Asia: the desert locust.
Desert locusts are voracious eaters, and often form large swarms, according to the United Nations' Food and Agriculture Organization (FAO).
A single adult desert locust can eat its own weight in fresh food each day — around two grams. So the 40 million locusts in an average one square-kilometer swarm will eat the same amount of food in one day as 35,000 people. A swarm of this size can number up to 80 million individuals, and cover several hundred square kilometers.
As flexible feeders, desert locusts eat the leaves, shoots, flowers and seeds of almost all plants. This includes key food and feed crops such as corn, pearl millet, sorghum, barley and rice, as well as fruits and vegetables.
Global desert locust monitoring
Among FAO's mandates is to provide information on the general locust situation, and to offer timely warnings and forecasts to countries at risk of invasion. Its Desert Locust Information Service analyzes data provided by affected countries. Together with weather data and satellite imagery, the service assesses the current locust situation and likely prospects.
The current upsurge in desert locusts began in 2018, according to FAO. At that time, heavy rains in the southern Arabian Peninsula allowed the locust population to expand undetected and out of control.
In early 2019, the insects spread from Yemen to Saudi Arabia and Iran, and then to the Indo-Pakistan border, Somalia and Ethiopia. In these areas, breeding occurred and more swarms formed. By the end of the year, locust populations had moved further to Eritrea, Djibouti, northeast Kenya and Sudan.
Swarms widespread in Africa, Asia
By the start of 2020, desert locust swarms continued to invade, spread, mature and lay eggs in Ethiopia and Kenya. In northeast Somalia, hatching occurred, while others moved to central Yemen and Saudi Arabia. Swarms were reported in Uganda, South Sudan, Tanzania and on both sides of the Persian Gulf during February. One month later, new swarms had formed in Ethiopia and Kenya, and others were laying and hatching in Iran. A few swarms were also reported in Uganda and South Sudan.
According to the latest FAO update, desert locusts have been detected this month in Ethiopia, Somalia, Saudi Arabia, United Arab Emirates and Oman. In Oman and Saudi Arabia, control operations are underway, but not in Yemen.
Efforts are ongoing to control the locusts in Iran, India and Pakistan, but the insects continue to breed, hatch and disperse to new areas.
In West Africa, FAO describes the current situation as "calm." However, spread from Kenya and Ethiopia to the eastern part of the Sahel (Chad) is a possible risk. Although the current threat is low, the organization is urging the scaling-up of investments and anticipatory actions to face the potential threat.
Locusts, coronavirus threaten food security
Invasions of desert locusts are among the major challenges facing farmers and herdsmen in the world's less developed countries. Along with land degradation and drought, these pests threaten global food security, according to Tijjani Muhammad-Bande, president of the 74th session of the United Nations General Assembly. He was speaking at a session addressing the global coronavirus (COVID-19) pandemic, focusing on the prevention of an upcoming widespread food emergency.
Emergence of the locust swarms could hardly have arrived at a worse time for states where food supplies were already insecure.
In a recent blog, World Resources Institute (WRI) warns of the particular threat to global food systems of the simultaneous threats of coronavirus and locust invasions.
"The locust outbreak is further compounded by the challenges of COVID-19, which have hampered preparation efforts to fight and control the pests," said WRI Vice President and Regional Director for Africa, Wanjira Mathai. "It's urgent that we build resilience in our food systems so that external shocks like COVID-19 and locusts are not as devastating."
Food supplies insecure in Horn of Africa, Yemen
In the Horn of Africa, WRI identifies three countries as locust hotspots, namely Ethiopia, Kenya and Somalia. Almost 12 million people there are experiencing high levels of food insecurity and hunger. Prices for basic foods in local markets have been rising sharply, and are well above average for the season.
Locust activity has also been particularly high in the Red Sea coastal area of the Arabian Peninsula, according to WRI. While Saudi Arabia is in a good position to weather the crisis, the situation has become acute in Yemen. Here, food insecurity and nutrient deficits have already led to the significant stunting of children's growth, and there is little prospect of improvement for several months, at least. Efforts to control locust activity are being severely hampered by the ongoing civil war in Yemen, according to WRI.
Coronavirus-related travel restrictions are hampering efforts to control locust numbers. Many people are subject to lockdown and isolation regulations. Furthermore, goods transport by air, sea, road, and rail has been curtailed. These have delayed deliveries of much-needed chemicals and spraying equipment to affected areas.
Locusts as animal feed
Containing high levels of protein and fats, locusts represent a potentially useful livestock feed ingredient.
In the Philippines, locusts are regarded as a nutritious supplemental feed for animals and fish, according to FAO.