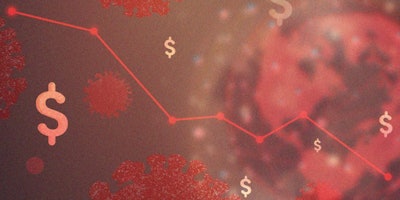 From ingredient availability challenges to safely maintaining 'essential' status, the global pandemic has tested and proven the resilience of the US feed industry.
Once the novel coronavirus disease (COVID-19) began spreading across the United States, it was immediately apparent the agriculture sector would play a critical role in how Americans coped with the crisis.
As consumers rushed to grocery stores to panic buy and hoard provisions, they were assured that despite empty shelves, there was not a food shortage and the supplies of meat and other staples were secure. However, it was only a matter of time before the virus did affect the food supply.
By May 2020, meat processing plants across the country began to close — including several of the nation's largest — due to COVID-19 outbreaks and labor shortages. This caused a significant bottleneck in processing capacity and stifled the producers' ability to harvest market-ready poultry and livestock. Producers have been forced to euthanize millions of animals and take other measures to slow production.
Though several plants have come back online, in the best-case scenario, meat supply shortages and higher costs will be felt through the summer. U.S. livestock industry associations "predict 2020 losses at $13.6 billion for U.S. cattle producers and nearly $5 billion for U.S. hog producers," reports CoBank's lead economist Will Sawyer, adding that U.S. consumers will potentially find 30% less meat on shelves and prices up to 20% above 2019 figures.
Inevitably, the animal feed industry will experience fallout and must adjust to the new production environment.
"We have nearly a million people working in the U.S. feed industry and we really view them as the backbone of the animal ag sector and an essential part of maintaining the food supply," says Constance Cullman, American Feed Industry Association (AFIA) president and CEO. "The goal now is to protect employees while also protecting the industry."
How has the COVID-19 pandemic impacted U.S. feed production, what lasting effects can be expected and what opportunities can the industry seize upon?
How COVID-19 has impacted the US feed industry
Here is an overview of how the U.S. feed industry has navigated the challenges posed by the virus and the positive outcomes it has reaped from proactive advocacy and leadership from its trade associations:
1. Supply chain disruptions
Initially, the feed industry was faced with supply chains concerns as commodity shipments from overseas suppliers, particularly from China, stalled at the ports and there was confusion regarding which products could come into the country and which could leave. Cullman recalls an isolated instance where a port closed, holding up deliveries to feed producers, but the problem was quickly resolved.
Luckily, as Cullman notes, many companies were already advancing their imported raw materials and micro ingredient inventories due to the hold-time recommendations for mitigating the risk of African swine fever (ASF) transmission through feed ingredients.
"This crisis has exposed strengths and weaknesses in the supply chain," she says. "As we go forward, do we need to be addressing some of these weaknesses that left us less nimble and flexible?"
2. Feed ingredient availability
With most states issuing shelter-in-place orders and other travel restrictions, fuel consumption and prices dropped dramatically and, with it, so did ethanol production. By April 2020, 35% of U.S. ethanol plants had fully idled and many others have reduced production. The availability of dried distiller's grains with solubles (DDGS), an ethanol byproduct and a critical animal feed ingredient, has corresponded with the decline.
"Last year, the ethanol industry produced about 38 million metric tons of distillers grains in 2019, but due to COVID-19 and reduced ethanol demand, the current volume is on pace to be roughly 19 million metric tons in 2020," says National Grain & Feed Association (NGFA) senior vice president, David Fairfield.
DDGS shortages have forced feed manufacturers to secure alternative ingredients and reformulate their rations, which typically results in higher feed costs.
"For cattle producers, some reports have indicated that replacing distillers grains with alternative ingredients will likely mean an additional $7 to $10 per head in cost of gain at finished weight, along with potential operational challenges associated with handling and use of different products," Fairfield reports.
In addition, other byproducts from human food processing, such as wheat middlings, bakery byproducts and various protein byproducts, are experiencing supply shortages.
"With the slowdown of product coming out of meatpacking plants that traditionally go into rendering, what is now going to be rendered may look a little bit different than before when you look at the whole animal," Cullman says. "Packers, renderers and other allies are coordinating efforts to provide stable, safe alternatives for feeding livestock and pets."
3. Labeling exemptions
As feed producers and nutritionists rapidly reformulate rations based on ingredient availability and cost, their pre-existing labels and packaging may no longer reflect the composition of the current product. The feed associations are working with the Food and Drug Administration (FDA) to navigate this challenge; however, the agency has signaled that it is willing to work with feed producers with the assurance the feed's safety and nutrition are protected, Cullman reports.
4. Initial feed demand surge
The pandemic caused a short-term feed demand surge as producers kept their feed inventories full to minimize the impact of any potential supply disruptions. It is likely this bump delayed the true scope of the crisis' effect on feed production.
5. Emphasis on safety
Feed companies have implemented a variety of social distancing measures to reduce the potential for employees and other personnel from contracting COVID-19, Fairfield notes. These measures include travel restrictions, the use of new communication technologies for personnel and customers, enhanced employee and facility hygiene practices, augmenting employee illness reporting protocols and minimizing contact with non-employees in facilities.
Much like in other industries, animal feed producers have struggled to obtain personal protective equipment (PPE), e.g., respirators. However, NGFA and AFIA are working closely with the U.S. Department of Homeland Security (DHS), the Federal Emergency Management Agency (FEMA) and the FEMA Supply Chain Stabilization Task Force "to prioritize the needs of the food and agriculture sector for access to available PPE, disinfectants and sanitation supplies, to protect the health and safety of employees and to retain consumer confidence."
6. Feed industry deemed 'essential'
Early on, the feed industry established its critical infrastructure classification, which permits employees who perform activities related to human food, animal food/pet food manufacturing and distribution and sales.
"This was particularly important as the designation advises and guides states, localities and other governmental entities as they implemented "stay-at-home," "shelter-in-place" or other restricted-movement orders within their jurisdiction," Fairfield says. "We also actively engaged with federal agencies to promote regulatory flexibility to accommodate the unique circumstances associated with the pandemic for issues related to transportation, inspections and others."
Feed producers also had to ensure employees could get to work and prove their essential status should it be called into question. Trade groups created their own makeshift letter templates for drivers and other staff to carry.
"We had several instances where employees were stopped by law enforcement for being out and they showed them our letter so that the officer understood they were part of an essential business," Cullman explains.
7. Decreased feed production
The rapid decrease in animal production caused by plant closures and alterations to feeding programs meant to slow growth will impact the total 2020 feed production volumes.
"We do expect there will be some short-term impact for livestock and poultry feed production," Cullman says. "But we are also optimistic that the plants will come back online quickly and stay in operation once they reopen — especially with the efforts of the [meatpacking] industry to get more permanent employee protections in place."
However, the long-term outlook is uncertain, Fairfield notes, as animal protein producers struggle to be profitable, manage oversupply and shift product from food service to retail.
"These are challenging times, but the U.S. feed industry is resilient and will weather this current environment and be positioned for future growth," Fairfield says.
Reference available upon request.
---
COVID-19 US Feed Industry Resources
American Feed Industry Association's (AFIA) public "Animal Food Industry Responds to COVID-19" news and FAQs: https://bit.ly/3dQBWdp
Center for Disease Control and Prevention's (CDC) Interim Guidance for Businesses and Employers to Plan and Respond to Coronavirus Disease 2019 (COVID-19): https://bit.ly/2Z51krr
CDC's Quarantine Guidelines: https://bit.ly/2yYy0Za
Department of Homeland Security's (DHS) "Guidance on the essential critical infrastructure workforce": https://bit.ly/3dLSKSD
Environmental Protection Agency (EPA)-registered Disinfectant Products for COVID-19: https://bit.ly/2LvGv0p
Feed Strategy's up-to-date COVID-19 feed news coverage: https://bit.ly/2WCpk3T
Food & Drug Administration's (FDA) Current Good Manufacturing Practice (CGMP) Requirements for Food Safety: https://bit.ly/3byhQ5W
Occupational Safety and Health Administration's (OSHA) "Guidance on Preparing Workplaces for COVID-19": https://bit.ly/2LtjEm2
National Grain & Feed Association's (NGFA) extensive public COVID-19 Industry Resources landing page: https://bit.ly/2X1qULx
---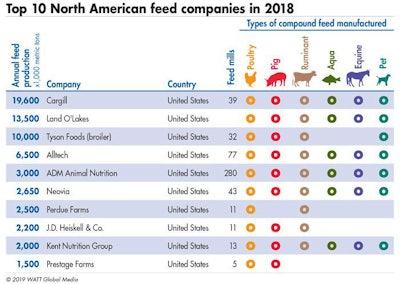 According to WATT Global Media's Top Feed Companies database, 10 North American feed companies produced more than 1 million metric tons of compound feed in 2018 or 4% of total global production. For more Top Companies insights, read Feed Strategy's 2019 Top Feed Companies report or peruse the Top Feed Companies database.