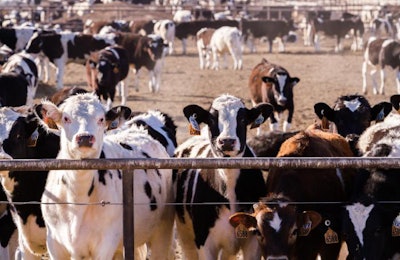 Purdue University economists say there are a lot of animals on feed because of processing plant issues
Strong feed demand for the 2019 and 2020 crop years is expected due to meat processing plant shutdowns and slowdowns as a result of the novel coronavirus (COVID-19) pandemic, according to two Purdue University agricultural economists.
The U.S. Department of Agriculture (USDA) "is projecting some pretty strong feed demand for both the 2019 and the 2020 crops," said Jim Mintert, the director of Purdue's Center for Commercial Agriculture, during a recent webinar.
This is due to the disruptions caused by the processing plant issues, said Michael Langemeier, associate director for the Center for Commercial Agriculture.
"It reflects the fact that we have a lot of animals out there on feed just because the slaughter number is down because of COVID-19 and packing plant capacity issues," Langemeier said. "Once those packing plants get online, we'll see those slaughter numbers increase because there is quite a few animals on feed."
Mintert noted that some of the processing plants that were temporarily shut down have started to return to normal operation. He said pork and beef production are down 20% and 25%, respectively, from a year ago. Poultry, on the other hand, suffered a significant production decline in late February to early March, but has rebounded since mid-April.
"In the last couple of weeks, we've seen poultry production pretty close to the year-ago levels, and actually slightly above the five-year average," he said. "So, the poultry production numbers have been quite a bit different and they have really served as kind of a buffer with respect to the change in meat supplies that we've seen in recent weeks.
Overall, Mintert added, meat production appears to be recovering.
"It looks like maybe we have turned the corner with respect to the production cutbacks taking place because of the plant shutdowns and plant slowdowns across the country," he said. "So that would be good news if that, in fact, is the case and maybe see some confirmation here over the next couple of weeks if we start to see some plants opening up with revised operating procedures."
Mintert added that, coming into 2020, there were expectations for record high meat production in the U.S. across all species, which "had strong implications for feed demand."
Ethanol shutdowns affect corn demand for feed
The USDA forecasts record corn production of about 16 billion bushels in 2020, but Mintert said corn demand depends on ethanol demand, export demand and feed demand. He expects weak ethanol demand to continue until the economy begins to recover.
The COVID-19 crisis has led to shutdowns of ethanol plants across the country and subsequent shortages of dried distillers grains with solubles (DDGS), a byproduct of ethanol production.
"One of the things that's happened with weak ethanol demand and some of the plants not running at capacity and in some cases shutting down, is there's no DDGS … and so one of the things that we've seen during this recent period is DDGS are extremely high price compared with corn and soybean meal," Langemeier said. "DDGS production was down quite a bit and so we're having to substitute more corn into rations," contributing to corn demand for feed.
While the USDA projects 2019 crop exports will fall 14% below 2018 and then rebound above 2018 in the 2020 crop year, Mintert said he expects weaker demand than that for 2020.
"The corn imports in those importing countries are going to livestock sectors to satiate demand for animal protein in people's diets," he said. "With loss in income, I'm expecting weaker demand there, so I think there's some risk that we could have trouble hitting that export forecast."
Soybean production could see a bump
USDA forecasts a big jump in soybean acreage from last year, with 4.12 billion bushels produced, which would push soybean production up 16% from 2019, and make it the largest soybean crop since 2015.
The international trade environment is key to soybean demand, Mintert said, with the main issues being crush demand, which is supported domestically by large livestock inventories, and export demand.
USDA expects soybean exports to rebound in 2020 to nearly 2 billion bushels, a 22% increase from 2019 crop year's forecast. But Mintert added that this depends on trade demand from China and that exports are running below the pace needed to hit that target.
View our continuing coverage of the novel coronavirus (COVID-19) pandemic.