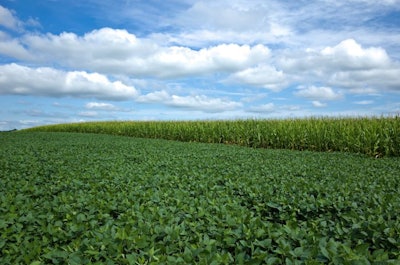 The U.S. Department of Agriculture (USDA) kicked up a dust storm this month when it released two apparently conflicting reports: one touting record-setting corn planting, and another announcing that U.S. producers were unable to plant crops on some 19 million acres — another record, according to the USDA.
The contradictory reports have led to myriad questions. But if you dig into the data, the numbers do in fact add up, according to Scott Irwin, an agricultural economist at the University of Illinois. The reason for the discrepancy, he said, is that the prevented planting acres came out of soybean tallies, rather than corn.
As of August 1, U.S. farmers had planted nearly 13 million fewer acres of soybeans than went into the ground last year, according to USDA data. The data show planting of most other crops, including corn, held steady between the two years. If the total prevented planting acres, plus total acres of soybeans and corn, are taken together for both years, Irwin said the remaining discrepancy of a few million acres seems within reason.
"Basically, I'm convinced, because the numbers add up," he said. "In essence, what farmers did was plant a record amount of corn in June, and took roughly three times the level of the prevented planting acres they have ever done by taking those prevented planting acres out of soybeans."
Faced with late planting and the joint prospects of low soybean prices and potentially high prices for corn, farmers apparently saw corn as a risky investment with a potentially high payoff, Irwin said. They may have assumed, he said, that soaring corn prices could outweigh the potential yield losses, which are higher for late-planted corn than for soybeans.
Was corn the better bet?
But it remains to be seen whether corn was, in fact, the better bet.
"Clearly, farmers developed very bullish price expectations for corn in June," Irwin said. "At this point, that doesn't look like a good assumption, because prices are back to where they started before the late planting."
Yet the U.S. could still be in for a roller coaster year where grain prices are concerned. The truly shocking figure to come out of the USDA's reports this month, Irwin said, is the amount of corn — an estimated seven million acres — that was planted in late June.
"I think the big question right now is how much yield, what kind of frost freeze risk does very late planted corn and soybeans face," he said. "That's the question we're struggling with right now, and we will not know the answer to that question until late October."