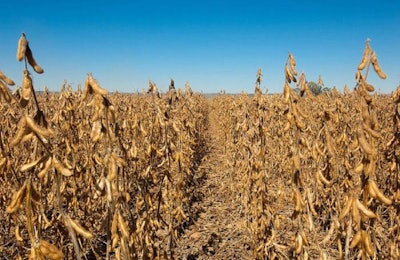 Despite early projections that anticipated this spring's flooding in the Midwest would have little impact on the organics sector, a new report suggests organic livestock producers could face rising feed prices in the months to come.
A special report on spring planting conditions, released last week by Mercaris' data service, found that more than half of surveyed organics farmers said cold, wet weather forced them to change their planting decisions this year — and all of those who changed their plans, according to the report, opted to plant organic soybeans in the place of corn or other crops. Just under one-third said they also planned to file prevented planting insurance claims due to reduced acreage.
"It's very clearly indicated that farmers have responded to this weather either by selecting prevented planting options, or pushing into soybeans," said Ryan Koory, a senior economist at Mercaris.
An overall increase in domestic soybean production would normally be welcome in the U.S., where an overreliance on organic soybean imports has resulted in unstable pricing and inhibited the growth of the organic feed sector.
But Koory said it was unlikely that the increase would do anything more than exacerbate falling domestic prices for soybeans. Most producers, he said, will likely shift back to higher-value crops, including corn, as soon as possible — potentially as soon as this fall.
For organic livestock producers, the likely increase of prices for corn, other grains and even forage is likely to offset any savings brought about by the reduced cost of soybean meal. Organic corn production was already low last year due to crop rotation schedules, and the industry was looking to see growth — not contraction — in the production of organic corn this summer.
Reduced hay and forage
Flooding has also reduced the availability of livestock hay and forage. This winter's organic wheat and alfalfa crops were of especially poor quality due to flooding, according to Mercaris.
All things together, Mercaris projects a tight market for organic commodities will likely add price pressure in the organics sector, even as consumers are beginning to expect lower prices for organic goods.
"Right now … the biggest thing is going to be trying to manage really tight feed supplies over the next year," Koory said.