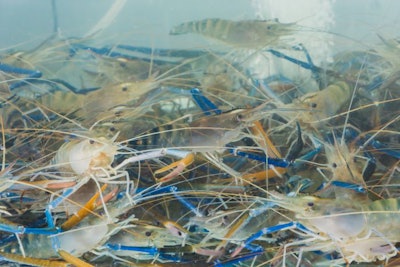 Having just recently inaugurated a new poultry feed plant in Jammu and Kashmir, Anmol Feeds has announced plans for two new facilities for the production of feeds for aquaculture species as it expands across India and beyond to neighboring countries.
With a total investment of INR550 million (US$8 million), Anmol Feeds has announced its intentions to set up a new plant producing shrimp feed in Kolkata, and a facility for floating fish feeds near the border between Bihar and Uttar Pradesh, reports Economic Times.
Both of the new production units are expected to be completed within two to three years. Once operational, they will increase the firm's total daily output from 1,300 metric tons (mt) to 1,500 mt, according to the firm's managing director, Amit Saraogi.
In June, Anmol Feeds inaugurated a new feed mill at Samba in the northern state of Jammu & Kashmir (J&K), reported Kashmir Reader. Its annual capacity is 70,000 mt, most of which will be poultry feed.
"By opening our new facility in Jammu, we will be closer to our consumers in the J&K region and can better adapt our products to their needs and preferences," said Saraogi.
At the inauguration, the firm announced its new logo, and launched its Nouriture brand, which aims to propel its future feed businesses for the aquaculture and cattle sector, as well as to consolidate its poultry nutrition business.
According to the firm's website, Anmol Feeds Pvt. Ltd. was founded in 2000 at Muzaffarpur in Bihar state. Since then, it has gradually expanded to serve 19 Indian states, and its corporate office has been moved in Kolkata. Its poultry nutrition products and services are sold in the east, north, northeast and south of India, while feed for cattle and aquaculture are marketed in Bihar, West Bengal and the northeast of India. Anmol's feeds are also exported to Bangladesh, Nepal and Bhutan.
With an annual increase of almost 8%, India is the country with the second fastest growth in compound feed production, according to the latest WATT Global Media 2019 World Feed Production Trends. This compares with the global average increase in 2018 of 2%.
India is also among the countries where the greatest growth in poultry meat production is expected over the coming decade. The United Nations' Food and Agriculture Organization (FAO) forecasts expansion of well over 1 million metric tons in India's poultry meat output by 2027 compared to the 2015-16 average.