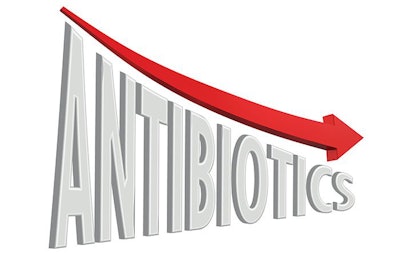 India's Union Ministry of Health and Welfare has banned the use of the antibiotic colistin in animals and fish intended for human consumption.
In an attempt to reduce antimicrobial resistance, the government has banned the sale, manufacture and distribution of colistin and its formulations for use in food-producing animals.
"This drug is highly misused in poultry industry as a growth promoter. One of the reasons for antimicrobial resistance in India is due to unwanted use of colistin in poultry industry," said S Eswara Reddy, drugs controller general of India, in a report.
The new government order instructs manufacturers of colistin and its formulations – which are still allowed to be used in human medicine – to include a label on its packages that says, "Not to be used in food producing animals, poultry, aqua farming and animal feed supplements" on the package, insert and promotional literature.
The use of colistin is already banned in the United States, Europe, China and Malaysia. It can still be prescribed for use in animals in the U.K. to treat infections, but is rarely used.
Colistin (colistimethate sodium) has been used for more than five decades for humans and animals. In veterinary medicine, it is used to treat infections caused by Enterobacteriaceae. Resistance to colistin in human pathogens is rare. According to Wikipedia, "the first colistin-resistance gene in a plasmid which can be transferred between bacterial strains was found in 2011 in China and became publicly known in November 2015. The presence of this plasmid-borne gene was confirmed starting December 2015 in Southeast Asia, several European countries and the United States." Colistin is known as a drug of last resort, which is used after all other options fail to produce the desired outcome.
Describing antimicrobial resistance as "arguably the most complex threat to global health," the Food and Agriculture Organization of the United Nations has reported that drug-resistant microorganisms are already responsible for an estimated 700,000 human deaths each year, and this could rise to 10 million annually if no action is taken.