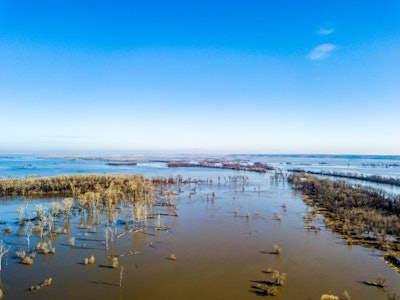 U.S. Representatives Angie Craig (D-Minn.) and Dusty Johnson (R-S.D.) introduced the bipartisan Feed Emergency Enhancement During Disasters Act (FEEDD Act). The FEEDD Act will provide farmers and ranchers additional emergency flexibility to help alleviate animal feed shortages during planting seasons with high levels of prevent plant due to extreme moisture or drought.
Currently, under the Federal Crop Insurance Program, producers that are unable to plant a crop due to adverse weather conditions are eligible to receive a small indemnity but are prohibited from growing a cash commodity due to a missed window in the growing season. The FEEDD Act would create an emergency waiver authority for the U.S. Department of Agriculture (USDA) to allow producers to graze, hay or chop a cover crop before November 1 in the event of a feed shortage due to excessive moisture, flood or drought. With this waiver, producers would not have to take a further discount on their crop insurance.
"In the midst of a delayed planting season, falling commodity prices, and limited market access, Congress has a responsibility to provide farmers and ranchers the flexibility they need to do their jobs successfully. This bill takes a critical step toward giving the Secretary explicit authority to waive the November 1 harvest date for cover crops on prevent plant ground,"Craig said. "While my colleagues and I will continue to work with the USDA to find administrative ways to address this issue, Congress must take action on this long-standing concern with a long-term solution and pursue all possible avenues for relief. Additionally, by incentivizing the planting of cover crops, we're building resiliency and feed stability for farmers throughout my district. I'm proud to lead this common-sense, broadly supported, and bipartisan effort."
"Producers are already facing five years of declining net farm incomes and this wet spring has thrown another challenge their way," Johnson said. "South Dakota farmers are resilient, but they've made it clear – a common-sense solution is needed to alleviate the feed shortage across the country. The FEEDD Act will allow Secretary Purdue to move up the November 1 harvest date on producers prevent plant acres. This simple fix will help ease our feed shortage, enhance the farm safety net, and improve soil health by promoting cover crops. Government can't control the weather, but we must do what we can to provide certainty to our farmers and ranchers. I will continue to work with the Department on an Administrative fix, but Congress should do what we can to fix this long-term."