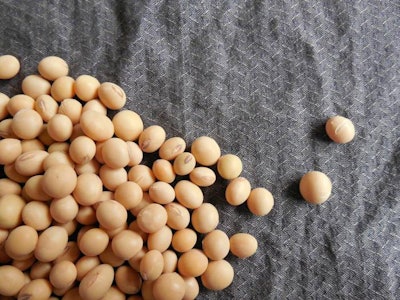 The American Soybean Association's (ASA) World Initiative For Soy in Human Health (WISHH) Program is building on its track record in aquaculture development through the Commercialization of Aquaculture for Sustainable Trade (CAST) – Cambodia.
A newly constructed aquafeed plant — the first in Cambodia to produce high-quality fish feed, will start production this month. The plant will incorporate U.S. soy into fish feed for CAST.
"Fish is a key staple in the Cambodian diet and constitutes the most important and largest source of protein, with per capita fish and shellfish consumption estimated between 36 and 63 kg/year. Average per capita consumption of freshwater fish in Cambodia is the highest in the world at 19.4 kg/year, but much of it is imported from neighboring countries," said a source affiliated with WISHH in a previous WATTAgNet report.
CAST will connect trade and development by accelerating production of high-demand fish species for the Cambodian market and developing an aquaculture industry that recognizes the value of soy protein in feed.
"A key aspect of the project strengthens local production of high-quality feed and fish. CAST makes it possible for Cambodia's private sector and universities to work closely with U.S. soybean growers and businesses, as well as academic and non-governmental organizations," a recent press release from ASA said.
At the end of May, administrators from the U.S. Department of Agriculture's (USDA) Foreign Agriculture Service (FAS) visited Cambodia to see the progress of CAST actions and had the chance to spend time on a fish farm, hatchery and in different markets where fish are sold. While there, they also visited the new aquafeed plant."The FAS officials met with CAST Chief of Party Jim Hershey and Operations Consultant Sambath Sak, and together they gave a program update to the Ministry of Agriculture's Fisheries Administration.The team met with other organizations working on aquaculture and received a briefing on the CAST baseline study, which is surveying over 1,000 fish farmers and other businesses in the freshwater fish aquaculture value chain," the press release said.
The plant was constructed by Agrimaster, the ASA said.
Aquaculture growth
In 2016, world aquaculture production reached 80 million metric tons (mmt), according to the latest report, The State of the World Fisheries and Aquaculture 2018, from the United Nations' Food and Agriculture Organization (FAO). China is the global leader in aquaculture production.
FAO estimates that, by 2030, total output will increase by 18% to reach 201 mmt.
Of all aquafeed production, 31% is used for carp production, with the other largest species groups being tilapia (17%), shrimp (15%), catfish (11%) and salmon (7%), according to the FAO's estimates.