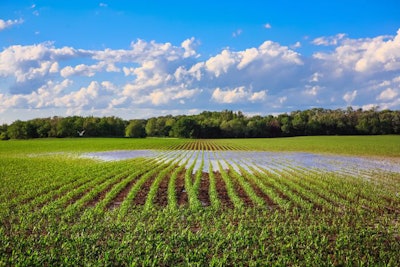 Despite dramatic planting progress in recent days, U.S. authorities anticipate that flooding in the Midwest will spur increases in corn and soybean prices in the coming months.
As of June 9, Midwestern farmers had planted about 83% of their corn fields, and 60% of their soybeans, compared with an average of 99% for corn and 88% for soybeans, according to the U.S. Department of Agriculture's (USDA) National Agricultural Statistics Service. Seven states — Colorado, Illinois, Kansas, Michigan, Ohio, South Dakota and Wisconsin — have set records for the latest planting delays in recorded history, according to USDA data.
Farmers appear to have made significant crop progress in the past week, up from 67% of corn fields planted as of June 2, and 39% of soybeans. But it's difficult to tease out whether the progress is real, or triggered by farmers opting for other crops or deciding to skip this year entirely, according to Michael Nepveux, an economist with the American Farm Bureau Federation.
For those still holding out hope, the window of opportunity is closing quickly. "Even those who are able to get a crop into the ground," Nepveux said, "they're going to take a big yield hit on those crops every day past the final planting date."
Based on the data available, Nepveux said, prices for corn are likely to rise this year. The question, he said, is how high, with "some folks out there talking about $6 corn."
According to a June report from the USDA, U.S. corn price projections are already up $.50, now averaging $3.80 per bushel. Increased corn production in Brazil and Argentina, coupled with decreased production and rising prices in the U.S., could erode the competitiveness of U.S. exports, according to the USDA.
Soybean prices have also increased, though costs have been mitigated somewhat by stock leftover from the ongoing U.S.-Chinese trade war. The average price for soybeans is projected to hit $8.25, up $.15 since March, according to the USDA. Flood-related losses are expected to exceed the loss in demand due to the trade dispute.
"Right now it's a very uncertain situation, between the weather and trade uncertainty," Nepveux said. "It's going to be a crazy year."