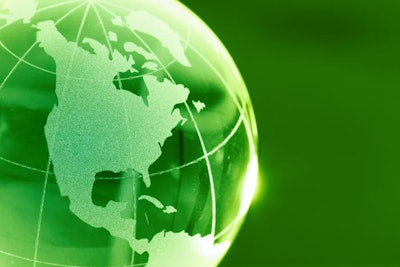 The United States, Canada and Mexico have signed the United States-Mexico-Canada Agreement (USMCA), a trilateral trade deal that will replace the North American Free Trade Agreement (NAFTA).
Leaders of the three countries signed the agreement in Buenos Aires, Argentina, ahead of the G20 summit that will take place this weekend. Legislators from each country must approve the trade deal before it goes into effect.
"It is now in Congress' hands to pass the USMCA," the American Feed Industry Association said in a press release. "I encourage our country's leaders to demonstrate to the world that the U.S. has entered a new era of trade agreements – one that is built on groundbreaking provisions, which increase transparency between the United States and its trading partners while rewarding science and innovation that continues to help today's industries meet the needs of tomorrow's consumers."
The American Farm Bureau Federation (AFBF) said the USMCA shows progress on the subject of international trade, but that more must be done to resolve trade disputes.
"Today's signing of the U.S.-Mexico-Canada Agreement continues the progress American farmers and ranchers have made since the North American Free Trade Agreement took effect in 1994," AFBF said in a statement. "As good as all this news is, farmers and ranchers still face retaliatory tariffs over steel and aluminum disputes with our North American neighbors and other trading partners. We urge the administration to redouble its efforts to come to an agreement on those outstanding issues so we can regain the markets we had not long ago."
Gains to be offset by losses
A study released in November showed that, while the USMCA will expand U.S. agricultural exports by $450 million, but those gains will be negated by retaliatory tariffs by Canada and Mexico against the U.S.
The analysis says retaliatory tariffs will cause U.S. agricultural exports to decline by $1.8 billion and that, with continued tariffs from China and other trading partners, "the United States would see a decline in agricultural exports of $7.9 billion, thus overwhelming the small positive gains from USMCA."
Farmers for Free Trade reflected this in its comments.
"Signing USMCA is a significant win for American farmers, but it's a win that comes with a big caveat," FFT said in a press release. "While USMCA offers exciting opportunities for market access into America's largest and closest ag export markets, any gains will continue to be offset by the losses farmers are experiencing from retaliatory tariffs as long as they are in place.
"Farmers for Free Trade is excited about the prospect of turning our grassroots organization's effort to supporting USMCA. We would like to spend next year leading the charge to ensure members of Congress get behind this agreement. We believe that it is in the best interest of farmers and rural communities. But like many throughout the ag community, we also believe that negotiating an end to the tariffs on Canada and Mexico is just as important for the bottom lines of farmers and their families. When it comes to a decision between the original NAFTA or USMCA along with tariffs on ag exports to Canada and Mexico, our farmers will choose the original NAFTA every time."