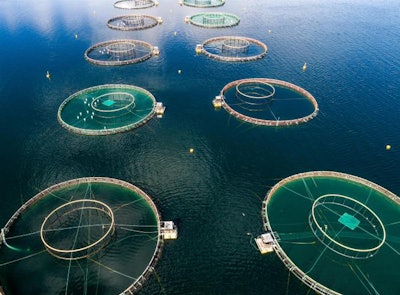 The U.K.'s Biotechnology and Biological Sciences Research Council (BBSRC) has committed GBP5.1 million (US$6.5 million) to fund aquaculture research and innovation.
Twelve projects will receive funding to conduct further research to address challenges for aquaculture.
The projects include studying genetics and breeding patterns, looking at how shellfish can be more sustainable, immunizing trout against kidney disease, and examining how robust salmon are and how susceptible to disease they are at sea.
"Aquaculture is a key food production sector for the U.K.," said Karen Lewis, BBSRC executive director, innovation & skills. "These projects will improve our understanding of the challenges facing aquaculture production. Working together with industry partners, U.K. researchers will help to address these challenges and contribute to developing a healthy, safe and sustainable aquaculture system which will deliver societal and economic benefit for the U.K."
The 12 projects to receive funding are:
AquaLeap: Innovation in Genetics and Breeding to Advance UK Aquaculture Production
Safe and Sustainable Shellfish: Introducing local testing and management solutions
ROBUST-SMOLT Impact of early life history in freshwater Recirculation Aquaculture Systems on A. salmon robustness and susceptibility to disease at sea
Evaluating the Environmental Conditions Required for the Development of Offshore Aquaculture
Passive and active immunisation against novel vaccine targets to protect trout against proliferative kidney disease (PKD)
Binder seeding to improve the economic case of UK macroalgal cultivation (Bindweed)
Paper-based platform for on site, rapid, and multiplexed DNA-based pathogen detection in aquaculture
PhytoMOPS: Phytoplankton Morphology and Optical Properties Sensor
The development of diagnostic techniques to assess anaemia in aquaculture reared Atlantic Salmon (Salmo Salar)
Algal vaccines for Aquaculture
Identifying targets for control of Ichthyophthirius multifiliis – a major cause of disease in aquaculture
NOSy – magnetic and wireless sensor technology for improving profit, biosecurity and carbon footprint of regional oyster production
The U.K. Aquaculture Initiative is a joint project to support high-quality, innovative research and address strategic challenges facing U.K. aquaculture.