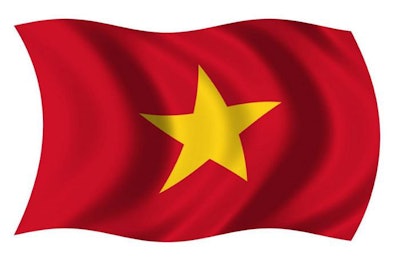 Sunjin Group from the Republic of Korea introduced its new animal feed factory, which can produce 240,000 tons of animal feed annually at Dong Van IV Industrial Park, in Kim Bang district, the northern province of Ha Nam on November 16.
This is the Sunjin Group's fourth facility in Vietnam since its start in 2004 and cost the company a total investment of $25 million.
Sunjin Group President Lee Bum Kwon explained that the new facility will provide a new solution in animal breeding as it fixes issues in feeding piglets.
Kwon also explained that it is the group's mission to help Vietnamese livestock producers improve the local industry market.
"Vice Chairman of the Ha Nam People's Committee Truong Quoc Huy, for his part, said he expects that when Sunjin F&F animal feed factory is put into operation, it will meet the rising demand of the market, and contribute to the development of not only the domestic animal breeding sector but also that of the province," reported Vietnam Plus.
Vietnam feed industry
Vietnam is the Association of Southeast Asian Nations' biggest animal feed producer and the 10th biggest in the world, according to the Husbandry Department, the Ministry of Agriculture and Rural Development.
The country produced 23 million tons of feed in 2016, which is up from 400,000 tons in 2004.
In October, Cargill opened a new $28 million feed mill in Binh Duong province. The mill is Cargill's 12th animal nutrition facility in the country, its largest and most technologically advanced.
According to a press release from Cargill, "Binh Duong provided a strategic location for Cargill to open this feed mill, thanks to its prime location, the province's strong push to modernize its local agriculture industry, its move toward sustainable farming and its strong support for agriculture infrastructure development."
Other companies are also advancing their feed business in Vietnam. Those companies include the Republic of Korea's CJ Group and the Mavin Group.