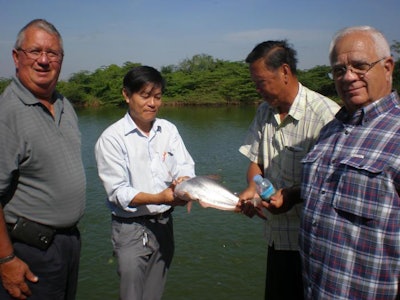 The American Soybean Association's (ASA) World Initiative For Soy in Human Health (WISHH) Program is building on its track record in aquaculture development by launching the Commercialization of Aquaculture for Sustainable Trade (CAST) – Cambodia. CAST will connect trade and development by accelerating production of high-demand fish species for the Cambodian market and developing an aquaculture industry that recognizes the value of soy protein in feed.
As a result of an extensive competitive proposal process, the U.S. Department of Agriculture (USDA) has selected WISHH to implement CAST under the U.S. Department of Agriculture (USDA) Food for Progress Program.
"Fish is a key staple in the Cambodian diet and constitutes the most important and largest source of protein, with per capita fish and shellfish consumption estimated between 36 and 63 kg/year. Average per capita consumption of freshwater fish in Cambodia is the highest in the world at 19.4 kg/year, but much of it is imported from neighboring countries," said a source affiliated with WISHH.
WISHH's previous FEEDing Pakistan project, also funded by USDA, played a groundbreaking role in introducing tilapia and U.S. soybean meal to Pakistan's aquaculture industry.
Pakistan is the fifth most popular country in the world, which makes it a key player as a U.S. soy customer.
"CAST is an exciting affirmation of WISHH's ability to connect trade and development," said WISHH Chairman Daryl Cates, an Illinois soybean grower, in an ASA press release. "WISHH is a trailblazer for trade through CAST, which will improve agricultural productivity and expand trade of agricultural products through commercial aquaculture sector growth in Cambodia."
The Southeast Asian country's GDP has increased by more than 7 percent per year since 2011, growing the demand for animal and aquaculture-sourced protein. CAST's anticipated local economic impact exceeds $300 million over the life of the project, and Cambodia's aquaculture industry demand for soybean protein is projected to reach 100,000 metric tons per year by 2030.
Soy is a valuable option for fish feed because "it is an affordable and readily available source of protein. Soy is also more environmentally friendly when compared to fish protein," a source from WISHH said.
Aquaculture growth and studies
In 2016, world aquaculture production reached 80 million metric tons (mmt), according to the latest report, The State of the World Fisheries and Aquaculture 2018, from the United Nations' Food and Agriculture Organization (FAO). China is the global leader in aquaculture production.
FAO estimates that, by 2030, total output will increase by 18 percent to reach 201 mmt.
Of all aquafeed production, 31 percent is used for carp production, with the other largest species groups being tilapia (17 percent), shrimp (15 percent), catfish (11 percent) and salmon (7 percent), according to the FAO's estimates.
A project in the European Union is looking for ways to decrease fish mortality in aquaculture. Even established species like sea bream and sea bass have a low survival rate of only 25 percent; for other species it is even lower.
According to the EU Community Research and Development Information Service (CORDIS): "The natural first feed for most fish larvae is crustacean nauplii (larvae). Fish larvae is evolutionary adapted to such a diet, and it is believed that this type of prey fulfills the fish larva's nutritional requirements."
Planktonic AS, the company in charge of the CryoPlankton2 project, has developed methods to cryopreserve marine crustacean nauplii, CryoProduct, and revive them live after thawing.
In August, BioMar received final approval to begin construction on a new AUD56 million (US$40.7 million) aquafeed production facility in Tasmania, Australia. BioMar announced plans for the facility in December 2017. Construction is expected to take 14 months. The facility will be located at the site of a former particle board manufacturing mill.