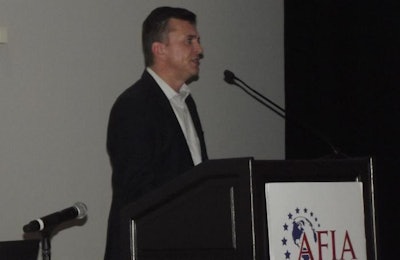 Since today's consumers are less connected with agriculture, it is important for those in the industry to meet them "where they are," advised Judson Vasconcelos, head of veterinary and consumer affairs with Merck Animal Health.
Speaking during his presentation "Understanding and Interfacing with Consumers," at the recently-held Liquid Feed Symposium in San Diego, California.
Vasoncelos said that consumers today are different than they were 20 or 30 years ago, and the animal agriculture industry needs to understand that.
"We need to do a better job about what we do, talking about agriculture, talking about all of the great things we do, because we need to be more vocal in the world that's been taken by the people who do not really like agriculture," he said.
Merck is doing that. It has been actively providing its partners and its customers with information so it can address consumer concerns about topics like animal welfare, antibiotic use, hormone use, or genetically modified organisms, he said. The company shares information with those stakeholders "so they can be prepared to have better communication skills and have more resources to communicate.
Building and strengthening trust
Because of consumer disconnect with agriculture, they are skeptical. But he added that in general, consumers still trust people.
Vasconcelos gave two tips on how to ease the minds of skeptical consumers.
Consumers spend so much time on their smartphones and on the Internet, that they are prone to believe what they read. So what they read needs to be accurate. If those who are involved in agriculture aren't sharing their message online, they should.
"We need to as an industry do a better job meeting consumers where they are," he said, indicating that they are online.
But online communications should not be overly technical. "Converse, rather than cite," he suggested.
He also cautioned about not getting defensive.
"People can get too defensive, too emotional and aggressive at some point, and we have to learn not to be too aggressive. I don't think that's helping us as an industry," he said.
He also suggested finding common ground with the consumers.
"We need to show that we care and engage in shared values," he said.
For instance, he used family as one way to show common ground or common concerns. He said if he explains to a concerned consumer that he has a seven-year-old daughter and that he wouldn't have her eat meat that is unsafe, that is a way to gain trust.
"People can relate to that," he said.