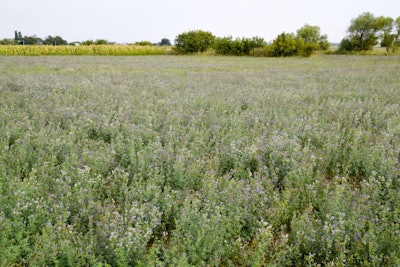 Qatar-based Hassad Foods has announced a new achievement in fodder production to help the sovereign state become self sufficient in animal feed, as well as a new investment venture in Sudan.
Aiming to broaden its business interests in other countries, Hassad Foods has started negotiations to acquire a major share of a large project in the Republic of Sudan in northeast Africa. Located near to the capital city, Khartoum, the project covers 10,000 hectares (24,710 acres), and has an annual production of about 150,000 metric tons of Rhodes grass and alfalfa, reports Peninsula Qatar. This makes the project among the largest fodder producers in Sudan.
As well as representing the next step in Hassad Food's foreign investments, the move will secure external sources of feed for Qatar's poultry and livestock sectors, if required, said Mohamed Al Sadah, the company's CEO.
After an investigation into the animal feed requirements of the local market, the firm identified the need for domestic and foreign expansion, he said, and for the Qatari private sector to work collaboratively rather than in competition to boost the nation's food security.
At the same time, Al Sadah announced that the firm had successfully produced its first crop of alfalfa. Representing the first phase of its domestic expansion plan, the fodder crop had been grown on 150 hectares (370 acres) at Irkkiyah, on a farm owned by Hassad Food's subsidiary, Aalaf Qatar. The new crop increased the company's total cultivated area to 800 hectares (1,980 acres).
Tolerant to drought conditions, alfalfa is perennial legume crop grown in many countries for direct grazing by livestock or for conservation as hay or silage. It has been recommended recently by the Sustainable Farming Association of the U.S. for inclusion in a seed mix to improve summer grazing when raising livestock on pasture.
According to the firm's website, Hassad Food is a subsidiary of the Qatar Investment Authority. It was set up in 2008 to supply the growing economy in the sovereign state on the Arabian Peninsula, and has since established business interests in Australia and Oman.
Hassad Food's animal feed arm, Aalaf Qatar, operates farms growing feed and fodder crops such as Rhodes and Blue Panic grasses at Sailiyah, A'Refaa, and Um Selal, as well as Irkkiyah. The firm offers feed for sale to livestock producers from several sites across the country.
Another subsidiary, Al Waha, is the largest poultry farm in Qatar, according to the company's website. It was founded in 1984, and produces fresh and frozen chicken meat, and table eggs.
Earlier this year, Hassad Food announced plans to increase its output of poultry, fodder, and vegetables in order to support food security in Qatar, reported Gulf Times.
Its annual fodder production was forecast to rise to 10,000 metric tons by expanding the cropping area and introducing alfalfa, according to CEO Al Sadah, in order to supply local dairy farms. Output by Al Waha would increase to 16 million chickens and 120 million eggs per year, he said.
In October 2017, Al Rayan Poultry announced plans to become the largest vertically integrated poultry enterprise in Qatar. Spread over multiple sites, annual capacity was said to be 70,000 metric tons of chicken meat, and 250 million table eggs.