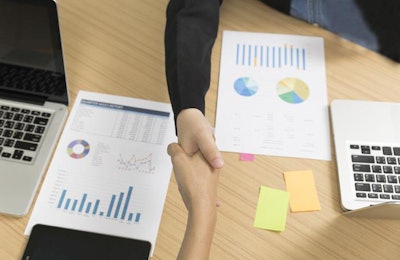 A controlling stake in Asia's largest privately owned agribusiness company, Gold Coin Management Holdings Ltd., has been sold to Pilmico International Pte. Ltd., a unit of conglomerate Aboitiz Equity Ventures Inc., for $334 million.
According to WATTAgNet, Zuellig Gold Coin produces concentrates, premix and compound feeds for poultry, pigs, ruminants, horses and specialty breeds. Part of the Zuellig Group, Zuellig Gold Coin consists of several subsidiaries that collectively employ about 2,400 people across 10 Asian countries. In 2016, the company had 22 feed mills and manufactured 2.5 million metric tons of feed. In late June, it was reported that the company was on the market. Pilmico International is a wholly owned subsidiary of Aboitiz Equity Ventures Inc. through its Singapore-based holding entity, AEV International Pte Ltd.
Pilmico International signed a share purchase agreement with British Virgin Islands-based Golden Springs Group Ltd. for 75 percent equity interest in Gold Coin. The consideration is based on an enterprise value of $413 million, which is equivalent to 75 percent of the total enterprise value of $550 million. After deducting cash-like adjustments, the final cash consideration is $334 million. The transaction will be funded through financing from foreign banks.
Pilmico International was chosen as the preferred bidder after a competitive bid selection process for the acquisition of Gold Coin shares from its holding company. Pilmico International operates in the Philippines and Vietnam and exports products to Vietnam, Thailand, Indonesia, Malaysia, Myanmar and Hong Kong.
The deal will allow Aboitiz to expand its animal feed business in the Asia-Pacific region and add 3 million tons of volume to the company's animal feed production capacity.
"ASEAN's market size of over 500 million will bring many opportunities to expand our customer base," said Aboitiz Chief Operating Officer and Pilmico President and CEO Sabin M. Aboitiz. "This acquisition serves as a platform towards achieving Pilmico's strategy to grow our core feed milling business beyond ASEAN and now across Asia. This acquisition will add three million metric tons of volume which quadruples our overall feeds production capacity."
The Gold Coin acquisition is Pilmico International's largest investment in the Asia-Pacific region to date.
Pilmico International's first ASEAN venture was in Vietnam in 2014 when it bought a 70 percent stake in Vinh Hoan Feeds (VHF), one of the country's major aquafeed manufacturer. In 2017, it bought an additional 15 percent stake in VHF, effectively increasing its stake to 85 percent. Driven by its strategy to widen its footprint in Vietnam and diversify product portfolio, in September 2017, Pilmico International bought a 70 percent stake in Europe Nutrition Joint Stock Co. (Eurofeed), an animal feeds manufacturer.
"The Zuellig and Aboitiz families have known each other for generations. I am excited about the partnership with Aboitiz Group, one of the largest and most established conglomerates in the region. The partnership will strengthen Gold Coin's growth profile and long-term value creation potential," said Peter Zuellig, chairman of Gold Coin.