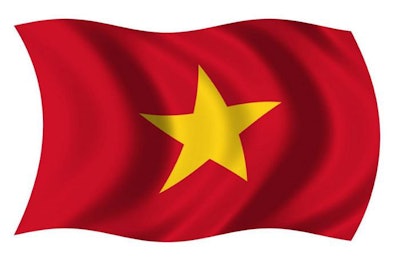 Vietnam has spent nearly $2 billion on animal feed imports, according to a report. That's up 10.7 percent from a year ago.
Vietnam is No. 15 in the world in compound feed production in 2017, according to WATT Global Media's World Feed Panorama 2018. According to Alltech's 2018 Global Feed Survey, Vietnam has 218 feed mills and produces more than 19 million metric tons (mmt) of feed. Nearly 12 mmt of that is for pigs, more than 3 mmt is aquafeed, and 3.8 mmt is for layers and broilers.
Despite USDA reports that feed demand in Vietnam fell by 15 percent in 2017, the decline was in homemade animal feed, not in manufactured compound feed, a sector which grew 4.5 percent in 2017. Poultry and pig feed grew by 3.5 percent, while aquaculture feed increased an impressive 10 percent.
But, despite that growth, Vietnam has spent more than $1.96 billion on imported animal feed products, much of that from Argentina, the United States, Brazil, the Republic of Korea and Belgium, this year. Here is the breakdown of import spending from those countries:
Argentina: $651 million
United States: $321 million
Brazil: $287 million
Republic of Korea: $24 million
Belgium: $18 million