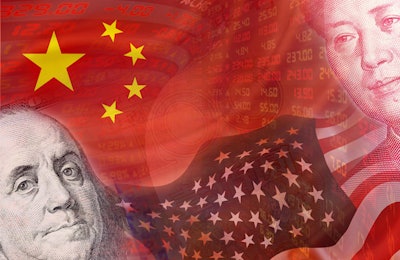 After China's announcement this week of a proposed 25 percent levy on 106 U.S. product imports worth $50 billion, including many agricultural commodities, U.S. ag groups have spoken out.
China announced the additional tariffs less than 24 hours after President Donald Trump revealed a list of Chinese imports, such as robotics, technology and aerospace products, that he intends to target to crack down on what he calls unfair trade practices.
Among the items China included in its list are U.S. grains and feedstuffs, such as yellow and black soybean, corn, corn flour, durum wheat, wheat and mixed wheat, brewing or distilling dregs and waste, sorghum, uncombed cotton and cotton linters. The list also includes pork and beef products, among others.
"A 25 percent export tax on these commodities into our second largest agricultural export market will hurt farmers, but also harvesters, processors, truck drivers, rail workers, and main street businesses that rely on a strong agricultural economy," said former Sen. Max Baucus in a statement.
Soybeans are the top U.S. agricultural export to China, and the U.S. is the second-largest soybean supplier to China, behind Brazil. In 2017, China imported $13.9 billion of U.S. soybeans, 61 percent of total U.S. exports and nearly one-third of annual soy production, according to the American Soybean Association (ASA).
Soybean prices in the U.S. fell 5 percent after the tariffs were announced, and American and Chinese stock markets were also affected.
Ag groups express frustration, impatience
In a statement, the ASA expressed its "extreme frustration about the escalation of a trade war with the largest customer of U.S. soybeans."
"It should surprise no one that China immediately retaliated against our most important exports, including soybeans. We have been warning the administration and members of Congress that this would happen since the prospect for tariffs was raised. That unfortunately doesn't lend any comfort to the hundreds of thousands of soybean farmers who will be affected by these tariffs. This is no longer a hypothetical, and a 25 percent tariff on U.S. soybeans into China will have a devastating effect on every soybean farmer in America," ASA said. "But there is still time to reverse this damage, and the administration can still deliver for farmers by withdrawing the tariffs that caused this retaliation. China has said that its 25 percent tariff will only go into effect based on the course of action the administration takes. We call on President Trump to engage the Chinese in a constructive manner — not a punitive one — and achieve a positive result for soybean farmers."
Similarly, the National Corn Growers Association (NCGA) urged Trump to reach an agreement with China that does not harm American farmers.
"There are no winners in a trade war, only casualties. As trade tensions continue to mount with China, the expanded list of tariffs on food and agriculture exports are making America's farmers the first casualties," the NCGA said in a statement.
"Our corn farmers have worked for decades to support fair and open trade practices because we understand that trade is a two-way street. In today's global economy, we know that we need to be competitive to grow and maintain our market share. Our farmers have done that, which is why agriculture has a positive trade balance. In 2018, the U.S. is forecast to export $139.5 billion in agricultural goods to the 95 percent of consumers who live outside the U.S. Instead of new protectionist policies, our nation's focus should be on growing market access and promoting expanded trade from our most competitive industries.
"We do have a window of opportunity to reach a mutually beneficial trade position with China until the time that tariffs are fully implemented. We need to be measured, professional and business-like in our approach to keeping the trade doors open with China. Equally important, we need the president to understand the implications that these trade actions have for America's farm families."
The American Feed Industry Association (AFIA) says it also is concerned about the affects China's policies will have on the import of U.S. agricultural products, including feed, feed ingredients and pet food.
"As China's demand for animal protein grows and with it, the need for innovative and more efficient feed technology, the United States must have a seat at the table so that our high-quality animal food products and high standards in safe, efficient manufacturing are incorporated in this flourishing marketplace. We urge the administration to consider some of the long-term risks it presents when moving forward with short-term 'fixes' to policy problems," AFIA said in a statement.
The American Farm Bureau Federation (AFBF) said its members' patience and optimism are being tested by the recent trade developments.
"Farmers and ranchers are, by necessity, patient and optimistic. We know markets ebb and flow. But China's threatened retaliation against last night's U.S. tariff proposal is testing both the patience and optimism of families who are facing the worst agricultural economy in 16 years. This has to stop," the AFBF said in a statement.
"Growing trade disputes have placed farmers and ranchers in a precarious position. We have bills to pay and debts we must settle, and cannot afford to lose any market, much less one as important as China's. We urge the United States and China to return to negotiations and produce an agreement that serves the interests of the world's two largest economies."
U.S. companies can raise objections to the proposed tariffs until May 22, and a public hearing is scheduled for May 15 in Washington, D.C.