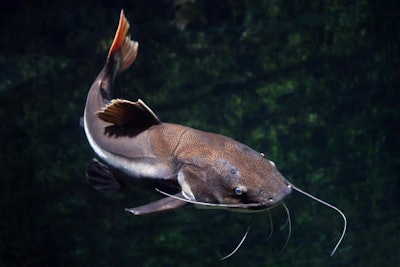 A sudden increase in the cost of imported aquaculture feeds as the result of exchange rate changes, and strong local demand for fish products have led to a number of new investments in the aquafeed sector in Nigeria.
Over a short period of time, imported feeds have more than doubled in price to NGN10,000 (US$27.90) per bag, reports World Stage Group.
One fish feed producer told the News Agency of Nigeria that the strength of the U.S. dollar against the naira had made the import of aquafeeds prohibitively expensive, but that this had led to innovations and investment in local production. Production levels are now as high with locally produced feeds as previously with imported ones, said another.
Some essential feed ingredients are still imported when these are key to the survival of young catfish. One local feed producer called on the federal government to subsidize imports of some raw materials for local fish feed production.
Nigeria's aquaculture sector is largely driven by the private sector, according to the Fisheries and Aquaculture Department of the United Nations' Food and Agriculture Organization (FAO). Its recently updated report highlights an inflow of investment into the sector in Nigeria, as well as renewed favor in its further development. With an expansion in output from 21,700 metric tons in 1999 to 316,700 metric tons in 2015, Nigeria's aquaculture sector has become the largest in Sub-Saharan Africa. Catfish account for about half of the country's production by volume.
Singapore-based food giant Olam International is reported to be considering investment in Nigerian fish farming. According to Business AM, a likely partner in the venture could be Mitsubishi Corp., and the aim would be to take advantage of growing demand for fish products by the West African country's growing middle class. Olam already operates an aquafeed mill in the country, as well as poultry farms and feed mills.
In 2014, Nutreco entered into a joint venture through its Skretting brand with Durante, a supplier of fish feed in Nigeria. The new entity, Skretting Nigeria, planned to invest in the production of extruded fish feeds at a feed mill in Ibadan for aquaculture producers in Nigeria and other West African countries.
A new fish farming organization was set up in Nigeria this year. The Amalgamated Association of Fish Farmers and Aquaculture of Nigeria aim to help accelerate the development of this fast-growing sector of the country's economy.