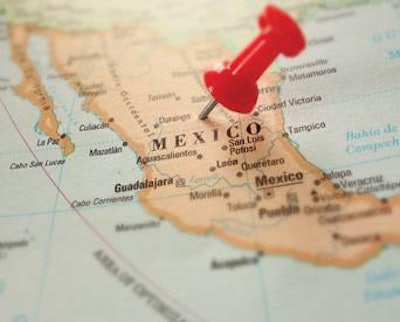 The 2014 edition of the Mexican trade group CONAFAB's (Consejo Nacional de Fabricantes de Alimentos Balanceados y de la Nutricion Animal) annual report paints an optimistic picture for the Mexican feed industry.
According to the statistics outlined in "The Animal Food Industry of Mexico" publication, Mexican feed production will experience a 2.7 percent growth this year over its 2013 production volume, with estimates totaling more than 29.7 million metric tons.
Focus on safety
The fourth largest feed producer in the world, Mexico has its sights set on expansion via export markets. To capitalize on the growing demand for protein, the country has placed increasing emphasis on feed safety.
"Nowadays it is not enough to efficiently produce large volumes, but that it is coupled with the necessary controls to also provide quality and safe food," states CONAFAB president, Juan Pedroza Martinez. "With that in mind, the feed industry invests significant resources to establish controls to minimize risks to both animal and public health of consumers within and outside the country."
While he acknowledges that technology and infrastructure investments still need to be made, Mexico's emphasis on safe food and feed practices aim to position the country as "a major player in the animal agriculture world market."
Feed production by species
When broken down by species, the majority of Mexico's compound feed production is fed to poultry (49.8 percent). Cattle (dairy, 15.7 percent; beef, 11.5 percent) and pork (16 percent) consume much of the additional volume. Extruded feeds, aquaculture and pet food make up less than 4 percent of the country's feed output.
In 2014, poultry feed production by both integrators and commercial mills will reach nearly 15 million metric tons; pork, 4.7 million metric tons; beef cattle, 3.4 million metric tons; dairy cattle, 4.7 million metric tons; pet food, 893,000 metric tons; and aquafeed, 178,000 metric tons.
Minor segments, such as horses, rabbits, sheep and goats, will account for 1 million metric tons of the country's total production.
Mexican integrators vs. commercial mills
In 2014, 62 percent of Mexico's compound feed volume will be produced by integrators – the majority of which (53.7 percent) are poultry producers. Feed production by integrated Mexican feed mills is projected to increase by 4.6 percent over 2010 figures.
That's not to say commercial feed mill numbers have not increased as well. Since 2010, commercial mill production will have jumped 8 percent – a trend CONAFAB attributes to lower grain costs and stable prices for animal products. The dairy cattle segment hosts the greatest percentage (42 percent) of feed manufactured by commercial mills over integrated producers.
Number of feed mills: 455
Total compound feed production capacity: 36.2 million metric tons
Capacity in use: 82 percent
Feed production in 2013: 28.9 million metric tons
Projected 2014 feed production: 29.7 million metric tons
Workers in the Mexican feed industry: 260,000 people
*Figures include both integrators and commercial mills
Tough 2013 for Latin America's top poultry producers, www.wattagnet.com/167741.html