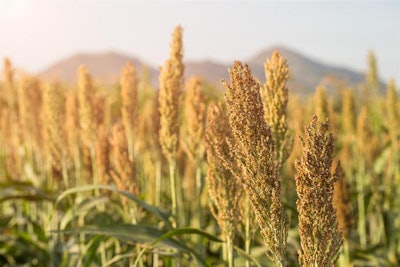 A recent invited review looked at this specific group of polyphenols as a potential antibiotic replacement.
Tannins used to occupy the minds of nutritionists only as a substance of nuisance, mostly in sorghum. They are bitter and reduce feed intake when found in high concentration. They also precipitate proteins in the gut, reducing their digestibility. New varieties of sorghum are low in tannins, and as such, nutritionists no longer preoccupy themselves with this topic. Of course, many other plants used as feed ingredients contain tannins, but at relatively insignificant amounts.
Tannins belong to the large group of polyphenols, which has emerged as a family abounding in potent substances suitable for the ongoing post-antibiotic era. The interest in tannins, at least for monogastric animals, has resurfaced, and preliminary results have been encouraging.
An extensive review by Swiss researchers published in the journal Animal (January 2020, pp. 95-107) discusses the role of tannins in preventing diarrhea in weaned piglets. Specifically, the role of tannins against enterotoxigenic Escherichia coli is investigated in depth. The fact that the editors of the journal invited this review gives extra credence to its topic.
In this review, the possible pharmacological effects of tannins are summarized, including the potential mechanisms of actions by which tannins may disrupt Escherichia coli pathogenesis. Also, the multiple factors affecting tannin bioactivity from differing sources are discussed. As all tannins are not the same, it is crucial to distinguish the beneficial ones by their chemical structure and biochemical/physiological effects. For example, hydrolyzable tannins can modulate the microbiota profile at the gastrointestinal tract level, perhaps in the same way as zinc oxide.
It is difficult to predict whether tannins will become a mainstream additive to replace, at least partially, antibiotics, but this review is worth reading. In general, the world of polyphenols continues to captivate the imagination of researchers. There are at least 8,000 such compounds that we know of in nature, and we believe we have just scratched the surface.