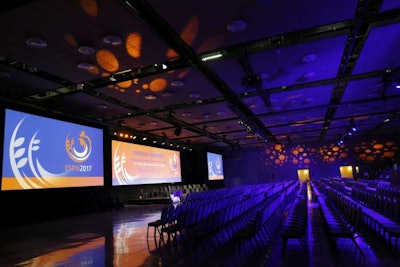 When I decided to attend the European Symposium on Poultry Nutrition (ESPN) in early May 2017, I did so thinking it would be an opportunity to update myself on the latest happenings of the industry. In fact, I did so excluding other opportunities for education (and networking), expecting a high return on investment. I approached the ESPN event as a student, although I could not abandon my facilities as a consulting nutritionist.
Perhaps this is why I left the symposium with a feeling of something amiss. It was not a case of "shooting for the stars and ending up hitting the ditch," but more like a missed opportunity for unsurpassed excellency in being the avant-garde hub of international poultry nutrition knowledge.
How a broiler feels
For the first time in my life, I realized how a broiler must feel. Lost among over 1,500 delegates in one big auditorium, I could not but compare myself to the poor creatures we were talking about. As there was only one current session at each time, the intimacy of small groups discussing topics of greater depth was missing, but at the same time, one did not have to lament the lack of owning a clone to attend two concurrent lectures. Hospitality was great, as I had expected, but again, being hemmed into a secluded resort where bedding and feed were provided locally did not allow much in experiencing the every-day nuances of Spanish life. But, again, I have always resisted the notion of industrial tourism!
When you try to be strong everywhere
Next comes my take on the program, which was a hybrid of two things: generic lectures and very specific research project oral reports. The former was short enough to keep interest alive, and I would have preferred more of these lectures. The latter were not needed, in my opinion, as ample time and space were devoted to attend the research project poster presentations. I am sure oral research presentations are good practice for graduate students, but I doubt this was the venue for such training.
For those attending to network, any event that brings together so many professionals is good enough, but for those seeking to advance their knowledge, nothing is ever enough.
The lectures were topics that ranged from the most advanced (epigenetics and nutrition is an example, and one that could make even a seasoned nutritionist realize that going back to school is not a bad idea after all) to the most basics that could have been avoided. As is the norm, the individual performance of each speaker varied considerably, and, not surprisingly, some speakers charged with simple topics did a stellar job. All in all, the level could be described as leaning towards that of a graduate student and not that of a working professional, although an honest attempt was made to accommodate all.
The industry that was not there
Poultry nutrition is not just additives, even though this industry is the one who apparently pays all the bills lately. Ingredients, services, software, feed milling and storage, feeding equipment, genetics, media and many other aspects make up or participate in the great industry of nutrition. Lamentably, the industry was not treated as it should have been during this event. Not only was the exhibition hall split into two disjoint small rooms, but the overall ambience was rather short of any international standards. The fact that many, but not most, exhibitors provided for their international personnel to attend the booths and the symposium demonstrated their belief in sponsoring this event. In my opinion, they could have received more recognition and much better positioning and attendance. And again, more sectors of the industry should have been present, too.
Ending up weak everywhere
I must admit that my high expectations based on the program advertised were not satisfied. Was I too demanding? Yes, I was; given the investment made and the program presented. But, when you try to please a crowd over 1,500 people, you cannot satisfy everyone. The question then becomes, do you try to satisfy a part of this group, or provide something for everyone? I think the organizers tried to do the latter. They squeezed three events (commercial symposium, scientific research conference and industry exhibition) into one big mega event, trying to be partial to all. For those attending to network, any event that brings together so many professionals is good enough, but for those seeking to advance their knowledge, nothing is ever enough!
Taking time to write about this event is a sign that I was pleased enough to demand even more for the future.
Say something positive
If I gave a 70 to 80 percent rating to the above, then I must give a full 100 percent to the proceedings book. It is a very professional publication work that is worth keeping in one's library to consult in times of need for inspiration. I am sure it will be available for purchase, so if you did not participate at the event, I would strongly recommend getting the book. Now I wonder how I could procure the proceedings book of the previous ESPN.
Will you be back?
Definitely! Those who know me also know that I am always too demanding, first of myself and then of everybody else. They also know that taking time to write about this event is a sign that I was pleased enough to demand even more for the future. One big advancement would be to break away the research projects from the main lectures — one can read a poster or abstract in less than the 15 minutes it takes for an oral presentation. Let's devote our rapidly declining mental facilities to matters of more global interest.
Even though I am confident that none of the above will be heeded, nevertheless, they can help future participants moderate their expectations or adjust them towards parts of the event that interest them the most. In either case, I am sure I will be back in 2019 in Gdańsk, Poland, for the 22nd ESPN as I cannot think of any other event that aspires so high to raise our knowledge of this industry. Until then, I have penned down some very interesting topics that merit our full attention, and I plan on developing them into full stories.