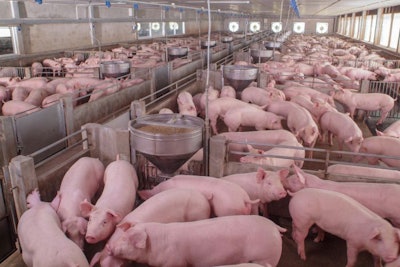 In an effort to meet Chinese pork demand, commercial gilts have been used rebuild the herd. However, once high-quality breeding stock comes back online, do Chinese pork producers run the risk of significant oversupply?
In late 2020, China's Ministry of Agriculture and Rural Affairs reported post-African swine fever (ASF) swine herd restocking efforts had reached 90% of the countries pre-ASF numbers, predicting a full recovery by mid-2021.
Despite reduced Chinese demand for pork imports in 2021, high live hog and pork prices tell a different story.
"I encourage people to really watch the pig prices and that'll give you an idea of whether that lines up with what we're looking at in terms of some of the claims on the restocking efforts," warns Todd Thurman, an international swine management consultant and the owner of SwineTex Consulting Services.
Thurman notes pre-ASF pig prices hovered around CNY14 to CNY16 (US$2.17 to US$2.48) per kilo. Today, even when accounting for the anticipated price fluctuations surrounding Chinese New Year, the going rate is CNY28 per kilo.
"That's roughly double where it was pre-ASF," Thurman notes. "Reports suggest they're at 80% or 90% of their pre-ASF herd — and we're still double the prices? Kind of makes you wonder if maybe those numbers aren't a little bit inflated."
It is well known ASF, while better controlled, remains a threat to the Chinese swine industry — not to mention reports of a new variant of the virus — but other disease challenges, such as porcine reproductive and respiratory syndrome (PRRS), porcine epidemic diarrhea (PED) virus and foot-and-mouth disease (FMD), have also taken their toll in the past 12 months.
Bloomberg reports 15% of China's national hog herd may have been lost to disease over the winter, pushing the "full rehabilitation to pre-swine fever levels is more likely by the second half of 2022."
Though the true extent of China's restocking success story is being called into question, other variables suggest Chinese pig producers run the risk of overstocking the herd, creating what may become the industry's next major obstacle.
Overstocking could lead to pork price volatility
During my recent Feed Strategy Chat with Thurman, he noted that his Chinese contacts are very concerned about the threat overstocking might pose to the industry's rebound down the line.
"It may seem a little strange that I say, 'OK, they're making big improvements, but maybe not as much as we thought,' and then mention concerns about overstock," he says. "I'm hearing a lot about this from my network in China, but I'm not hearing much about it over on this side of the world."
Breeding stock shortages have moved commercial gilts bred for meat into production, resulting in 25% less reproductive performance.
"This creates a situation where they want to replace the pork that's very much in demand, but it's going to take more sows to do that," he says.
Once Chinese producers have access to proper breeding stock, its hog and pork supply may exceed demand.
"If China is producing 25% less pigs with those replacement sows that really weren't even intended to be breeding animals — and I think that's probably at this point more than 15% of the entire herd — that'll have a very significant impact on overall herd productivity," Thurman explains. "If they rebuild to address pork shortages, they may end up overbuilding once the higher-quality breeding stock is back in place and performance improves. So there's this concern about that gap between getting the breeding stock situation resolved and also needing to provide pork."
Thurman feels a significant oversupply situation could drive pork prices very low and result in massive industry consolidation.
"I do think it is a legitimate concern because there's a real incentive to get pig production back up and to provide pork to the people that want it, but there is a real risk of oversupply and then having to make a painful adjustment when things go back to normal — whatever normal is going to be since that's a very loaded term these days — but certainly, it's an issue that I'm keeping my eye on," he explains.
To hear more of Thurman's insights, watch our Feed Strategy Chat: https://bit.ly/3q1L5W2