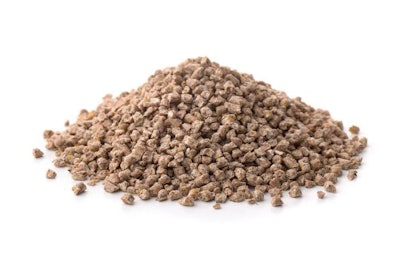 At the intersection of animal protein consumption, consumer demands and macro agrifood trends, you will find animal feed manufacturers navigating the highs and lows of a changing production landscape.
In response, the Feed Strategy Conference, co-located with 2020 edition of the International Production & Processing Expo (IPPE), will provide animal feed and poultry industry professionals with forward-looking perspectives and insights necessary for maintaining future growth and profitability.
The half-day event, held on January 29, 2020, will examine the consumer and protein market trends poised to impact short- and long-term poultry meat and feed production.
This forum for knowledge exchange features speakers with unique animal agriculture insights. Attendees will leave with a keen awareness of the issues and challenges facing the animal protein sector
For example, CoBank's lead animal protein economist, Will Sawyer, will delve into the global issues affecting supply and demand for poultry meat and other commodities in 2020. In addition, his talk will examine the factors influencing grain costs and feed production to help industry stakeholders plan for the year ahead.
Rabobank's RaboResearch Food & Agribusiness executive director of animal protein Christine McCracken will explore the growth of plant-based animal protein alternatives, its appeal to consumers, and provide insight into what poultry and meat producers can expect in the future.
Drawing from the largest repository of purchase, media, social, causal and loyalty data, Chris Dubios, IRI's senior vice president – protein practice, will tap into the data firm's exclusive market intelligence to explore current and future U.S. consumer poultry purchasing behaviors as they relate to antibiotic-free production, slow-growth broilers and feeding specifications.
Looking to the future, Aidan Connolly, president of AgriTech Capital and CEO of Cainthus, will explore how new technologies now in their infancy will shape how poultry is raised and poultry feed formulation over the next three decades. During his talk, Connolly will identify which of the developing technologies are the most technically feasible, economically practical and acceptable to consumers.
To round out the program, four feed industry stakeholders will gather to discuss the issues critical to 2020 poultry feed production. This discussion will encompass challenges like antibiotic-free production to ensuring feed safety.
Registration for the Feed Strategy Conference is open; however, note that you must register to attend IPPE 2020 first.