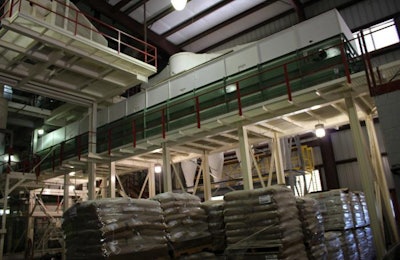 There's a storm brewing in the world of feed machinery manufacturing — and unless you're in the know or have a vested interest in the production of feed manufacturing equipment, you've likely never heard about it.
In 2014, the Standardization Administration of the People's Republic of China (SAC) approached the International Standards Organization (ISO) to propose the development of a technical committee to establish feed manufacturing machinery standards.
"This initiative came out of left field and was thrust onto the majority of industry players — no one knew this was even being discussed," says a source from the U.S. Coalition of Feed Machinery Manufacturers for Fair Trade (FTC), a U.S-based group of feed machinery manufacturers.
From the onset, feed industry stakeholders argued there wasn't a pressing need for this standard; others were skeptical because the efforts were being led by the SAC.
"There is a serious concern that the final ISO standard for feed machinery could be detrimental to the U.S. feed manufacturing industry's interests and ability to export in the future," reports the American Feed Industry Association (AFIA).
Despite attempts to veto the proposal, it was approved and technical committee ISO/TC 293 was born. (The United States, Japan and France outright rejected it.)
Consisting of representatives from 12 countries, ISO/TC 293 is tasked with the "standardization of single feed machine, processing systems and complete production lines including safety, hygienic requirements, environmental protection and specific technical requirements of feed machinery used in feed processing mills."
The United States created a U.S. Technical Advisory Group (TAG) to offer input and, frankly, to ensure they were apprised of any major developments.
The ISO/TC 293 committee split to tackle three areas: terminology, hygiene and safety. While things seemed to be moving along at first, controversy arose within the terminology group after the SAC submitted a proposal to expand upon (in the opinion of the FTC, complicate) nine new terminology subsets. TAG rejected this proposal, but they may not have the support within the group to stop it.
Though I am focusing on this issue from the U.S. perspective, ISO/TC 293 will affect all feed machinery manufacturers. According to the FTC, here's how:
1) Equipment standards already exist
Each country has its own unique standards and regulations. A single global standard would interfere with a manufacturer's ability to meet local standards and adapt products to meet the requirement of individual customers.
2) Commodization of feed equipment
The strength of feed equipment manufacturers is based on their ability to differentiate their product. Standardization would undermine this differentiation.
3) "Standards equal quality" myth
Standards programs can be used as a marketing tool to show that a product is the same as higher quality products.
4) Innovation freeze
A set global standard would require an added step for each manufacturer to get approval for new innovations. Competitors will also gain access to intellectual property.
If you're not a feed machinery manufacturer, you may be asking yourself, "Why should I care?"
Well, without new innovations and the guaranteed quality animal feed manufacturers have grown accustomed to, the industry and the performance of its products could suffer.
"For generations, feed mills have benefited from the quality, reliability, innovation and customized designs provided by the machine manufacturers. These proposed ISO standards are being used as a tool to undermine free trade, competition and innovation, which are the lifeblood for a healthy, growing, high-quality global feed milling and machinery market," says one FTC member.
What can you do? To get involved, the FTC suggests reaching out to your country's feed association, but urges interested parties not to wait because the proposal is already nearing "next-level" status.