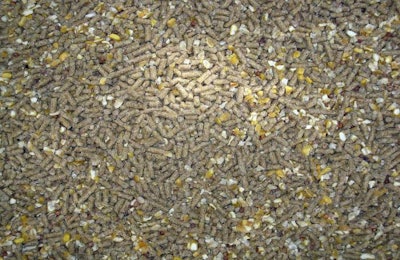 As many of you are well aware, the final move of medically important antibiotics from over-the-counter (OTC) to Veterinary Feed Directive (VFD) status formally goes into effect on Jan. 1, 2017. But the lingering question for some animal feed producers may be, "What actually happens on January 1?"
According to Phil Lawler, principle at PDT Consultants L.L.C., who recently headed up the "Feed Mill VFD Survival Strategy" webinar produced by animal health records software supplier GlobalVetLINK, this date marks the official kickoff of the FDA Center for Veterinary Medicine's (CVM) inspection program.
Conducted by state animal feed inspectors, the pilot program will evaluate phase-in compliance activities to ensure the organization is properly educating the industry.
"The first stop on the inspection trail will be with feed distributors, and then they will work backward to the vets and producers from there," Lawler explained, noting that distributors are defined as any person distributing feed containing a VFD drug to another person or organization.
Inspectors will look for 15 specific inspection items, ranging from the issuance date to the number of authorized refills, on a feed mill's VFD forms. In the long run, Lawler predicts inspectors will prefer electronic documents management over a paper-based system because it's more efficient.
"There's a vested interest between the vet and the feed distributor to have the VFD process be accurate and efficient from a time perspective," Lawler said. "The producer still expects their feed within a certain time frame and it hurts the relationship of both if there are delays in the process."
With 61 percent of animal feed-based antibiotic usage transitioning to VDF status, the FDA estimates that 750,000 VFDs will be issued annually. (Editor's note: Wow.)
Inspector visits
Mills will be selected from the VFD Distributor Notification list. Unlike an OSHA visit, the state inspections are focused on education, not enforcement. But, as Lawler cited, there are three key distributor VFD compliance responsibilities: to notify FDA with intent to distribute VFD drugs (fulfilled at the onset), fill VFD orders, and retain the VFD orders for two years from the date they are issued.
With this in mind, he offered up a list of questions feed mills should be able to answer during the first round of inspections:
Did you/your company notify the FDA of your intent to distribute VFD feeds?
Do you/your company keep copies of the VFD orders for least two years if distributing VFD feed to the end user?
If the operation being inspected distributes VFD feed to other distributors and not to the end user, does this operation keep copies of acknowledgement letters for at least two years from the date of last shipment under the acknowledgement letter?
While I think the true extent of these visits remains to be seen, this line of questioning provides a nice preliminary exercise in getting ahead of the baseline requirements. Are you confident your team easily can produce this information? If so, great; you're ahead of the curve. If not, it's time to review your record-keeping.
This is not an endorsement or advertisement
To offer a little context to the underlying purpose of this webinar: GlobalVetLINK is a player in the paperless VFD document game. For example, it recently partnered Phibro to launch FeedLINK, an electronic Veterinary Feed Directive (VFD) system.
Before I share the link to the full webinar, be forewarned the last half devolves into a demo of their product. Now, I should mention that WATT Global Media is in no way benefiting from mentioning this company/product in this blog, but I feel there is value in seeing how a paperless VFD application works.
The full "Feed distributor VFD survival strategy" webinar is available on the company's YouTube channel: https://www.youtube.com/watch?v=z5YYbdz0zbU