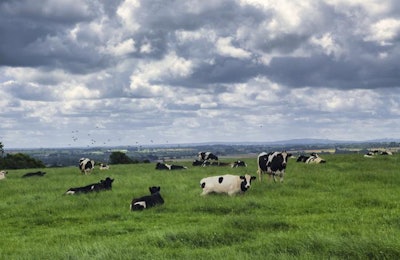 2016 marks the fourth September I have headed to Rennes, France, for the SPACE livestock exhibition. This is one of my favorite events for several reasons, but mainly because it's interesting to get immersed in a fair driven by such a strong national dedication to animal agriculture.
Unlike in years past, this edition seemed to take on a darker tone.
Over the past year, French animal production has been dealt some significant blows. Naturally, these troubles have been reflected in the country's feed production. In 2015, Spain over took France as the second largest compound feed producer in Europe. Estimates suggest 2016 volumes will continue to decline in the face of several factors — and the outlook continues to be bleak.
Here's a brief recap of the situation on the ground:
Grain: French wheat and corn production have suffered from a wet spring followed by summer drought. Wheat yields are expected to hit record lows, and corn will be down 7 percent. Overall, the French grain output will be down 24 percent in 2016, the French agriculture ministry reports. Producers will feel the effects of high feed costs and increased incidents of mycotoxin contamination for the foreseeable future.
Poultry: French poultry producers have suffered from weak domestic demand for broiler meat. For example, cheaper poultry imports – mainly from Poland – have significantly decreased domestic poultry production. In fact, this year such imports account for 40 percent of French consumption. To top off these challenges, poultry exports have been hindered by Russian sanctions and China's ban on French poultry to mitigate the spread of avian influenza.
Swine: It seems pig production offered a slight silver lining. While not growing, production is expected to stabilize through the end of the year, driven by exports and an overall decline in EU production. But, I should mention pig farmers haven't been exceptionally thrilled with the prices set by the Breton pork market this year; however, they have recently begun to rebound.
Dairy: Meanwhile, the end of the milk quota last year greatly affected French dairy producers, forcing many farmers to temporarily halt production or go out of business permanently. The cost of production for 1 ton of milk is EUR300 (US$337); however, the market value has hovered around EUR217/ton (US$244), reports Jérôme Pavie from the French Institut de l'Élevage (Livestock Institute), noting that even the most efficient dairy farmers can only hope to break even.
Beyond the economic impact, these conditions have produced social consequences as well. Agricultural trade groups and unions are actively trying to combat an uptick in farmer suicides — one every two days.
This blog post may seem rather doom and gloom, but despite this perfect storm of negative circumstances, French producers and feed manufacturers remain optimistic for 2017 — predicting a rebound starting in November. If this the case, I hope to offer a more positive report next year.
Editor's note: A special thanks to Feed International contributor Yanne Boloh for introducing me to key stakeholders — and assisting with translation — while I was at the exhibition.