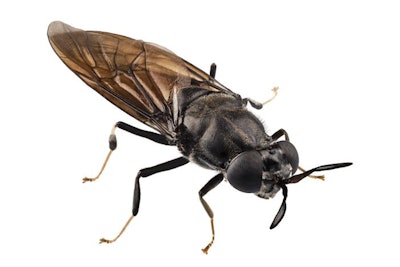 Modern consumers want natural, sustainable, ethical meat products — and insects may be among the best ways to meet their demands, according to Kees Aarts, founder and CEO of Protix.
Although some may regard insect meal as the realm of startups, Protix has already transitioned to full-scale commercial operations. The company opened its largest facility, a 15,000 square-foot factory in Bergen op Zoom, last month, and Aarts said plans for further expansion are underway in anticipation of a growing consumer demand.
"I truly believe that this is a new type of movement that allows for a noncombative, positive framework for nearly all consumers to act in," Aarts said.
Consumers are increasingly interested in reducing their impact on the planet, Aarts said, but not everyone wants to become vegan, either. Thus, insects stand to fill a void, not as a direct replacement for meat — at least not at first — but as an animal feed offering that boasts environmental benefits and a wholesome, back-to-basics image.
"If you follow that rationale," he said, "then insect protein and insect byproducts for soil improvement will have huge, and widening, potential."
Aquaculture accounts for the bulk of Protix customer base. Despite the rapid growth of the industry, he said, fish meal production has leveled out. Insect meal, Aarts said, is an alternative that, arguably, isn't really "alternative."
"Insects have a very complete amino acid profile, so they can easily replace fish meal and have beneficial impacts on fish," he said.
Meanwhile, Protix is also looking to expand its offerings to the poultry sector. The company already produces a live insect product, which serves as a supplement that promotes animal welfare by inducing more efficient use of dry feed and "more natural behavior," but company research suggests poultry cannot survive on live insects alone.
"The next step is insect protein meal," Aarts said. But first, Protix will have to gain regulatory approval — insect meal is not yet approved for use in poultry feed in Europe.
But where some see barriers, Aarts said, Protix sees opportunities.
"In agritech, it's harder — it requires collaboration, it requires innovation, it demands capital deployment, so it's more intense. There's a kaleidoscope of aspects needed to bring a product to market. But the good thing is, there is more and more and more attention to it. More people are becoming positively aware that true change comes from new types of energy, new types of mobility, and agritech."