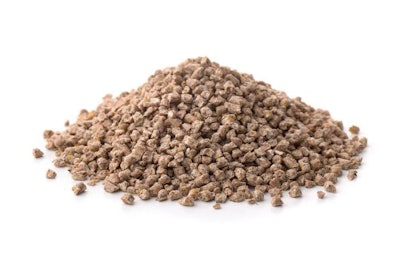 Global animal feed volumes reached 1.07 billion metric tons in 2017 — growing by 2.57 percent over 2016 production, according to Alltech's 2018 Global Feed Survey. The seventh edition of the animal nutrition and feed company's annual report gathers its data from international feed associations and more than 31,000 feed mills across 144 countries.
World animal feed production "has grown by 13 percent since 2012 — an average of about 2.5 percent every year over the last five years," said Aidan Connolly, Alltech's chief innovation officer and vice president, corporate accounts.
Connolly feels strong feed production is a good indicator of global economic health and livestock market conditions.
"The world feed industry is worth $430 billion," Connolly said, nothing that the cost of diets directly correlates to access to commodities. "If I were to predict what happens next, we'll continue to see low feed costs, kept down by the amount of corn and soy and other proteins in the marketplace."
In addition to livestock feed volumes, Alltech's volumes included 28.1 million metric tons (mmt) of pet food and equine volumes (8 mmt).
Standout growth in two regions
Over the past five years, feed production has primarily grown in Africa and Europe. However, it's important to note that European volumes were driven by growth in former Eastern European countries, e.g. Belarus, Ukraine and Russia, and not necessarily the European Union.
For example, Russian feed production was up 19 percent. The country is now the fourth largest feed producer, moving up from the No. 7 slot it held last year.
Russian President Vladmir Putin's focus on localized self-sufficiency in protein production is driving professional feed production in the country across all species, Connolly said.
Meanwhile, Africa is on track to increase animal protein production.
"Africa is very much on the fast track, it has seen 30 percent growth over the last five years," Connolly says. "You can see it is growing strongly across all species."
Unfortunately for producers, the continent maintains the highest feed costs of any other region.
Changes in Asia
Asia-Pacific continues to be the world leader in animal feed production, accounting for one-third of total production.
In 2017, the region overall saw 3 percent growth; however, key Asia aquaculture markets experienced decreases in production.
"Chinese aquafeed production decreased by 5 percent; Vietnam also reported a decrease of about 9 percent; Indonesia fell 17 percent, as did Taiwan and Japan, each reporting drops of 9 percent and 3 percent, respectively," Connolly said, citing disease, increased consolidation and efficiency as drivers of this trend.
Asia-Pacific accounts for 70 percent of world aquafeed volumes.
In China, feed for all species was down, but its pork feed volumes rebounded, up by 11 percent over 2016.
Additional highlights
Broiler feed production overtook swine production, meaning that by 2022 broiler meat will be the most widely consumed protein.
The top seven countries account for more than 50 percent of world feed production: China, United States, Brazil, Russia, Mexico, India and Spain.
Iran leads the Middle East across most species.
Strong growth in India — feed production up 9 percent — is driven by growth in poultry, dairy and aquaculture.
North America feed production grew by 2 percent.
In Latin America, Brazil, Mexico and Argentina account for 75 percent of the region's feed production.
Europe reigns as the No. 1 producer of pet food.
Global trend toward white meat — chicken, pork and fish — is affecting beef production.
As broiler production and feed conversion improves, poultry feed volumes will no longer reflect actual growth in broiler meat consumption.