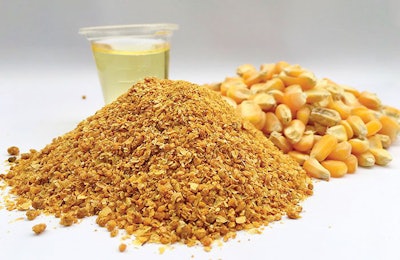 As ethanol production continues to evolve, ethanol producers have become more efficient in ways that have changed the nutritional characteristics of dried distiller's grains with solubles (DDGS). With such change, nutritionists need to consider value fluctuations when formulating monogastric diets.
The webinar, "Formulating DDGS into monogastric diets to maximize profits," outlined several university trials uncovering the shifts in DDGS nutritional composition data of over the past decade and delves into applications for swine and poultry diets.
Changes to DDGS composition
There are three types of DDGS: conventional (>9% oil), low-oil (5-9%), and de-oiled (<5%). Dr. Hans Stein, nutrition professor, University of Illinois – Champaign-Urbana, states that changes in oil concentration have decreased the metabolizable energy (ME) in DDGS and can vary from one source to another. The new ME average is 2,953 kcal/kg.
Contrary to National Research Council (NRC) values, the removal of fat from DDGS-produced samples in 2016 suggested increased amounts of lysine, methionine, threonine and tryptophan when compared with corn.
"The quality of DDGS is greater now than in the past with amino acid digestibility," Stein said.
For example, lysine as a percentage of crude protein has raised from >2.8 percent in 2007 to >3.4 percent in 2016.
Stein attributes this to "the ethanol industry doing a better job of not destroying lysine in the heating/drying process."
DDGS considerations
As a rule of thumb, the threshold that determines if DDGS will enter a broiler diet formulation is savings of at least $1/ton, said Dr. Bill Dozier, professor in Auburn University's poultry science department, but this inclusion is weighed against other factors, such as bin space, handling and nutrient variability.
Based on recent studies, Dozier notes that the long-standing correlation between the digestibility of amino acids and the color of DDGS, i.e. darker coloration equated to overheating and, therefore, lower quality, is no longer relevant. Today's samples fed to poultry and rated on the Hunter L scale show that color has less effect digestibility than it once did.
Dozier went on to present several broiler and layer trials showing the efficiency of DDGS inclusions.
"Know your DDGS source," Dozier said, in regard to nutrient variability. "It's key to optimizing your feeding programs with DDGS."
Click here to view the webinar.
To view other webinars on related topics and to register for upcoming webinars, visit www.WATTAgNet.com/webinars.