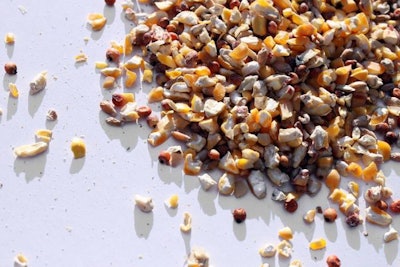 Happy new year! 2018 promises to be a very exciting year for WATT Global Media's Feed brand. First, if you haven't heard, we launched Feed Strategy magazine. The first issue will hit the streets next week.
We also have two live events on the horizon:
At the International Production & Processing Expo (IPPE) in Atlanta, WATT Global Media and Feed Strategy will host a free roundtable discussion, "Antibiotic growth promoters: Feed additive alternatives & replacement strategies," on January 30, 2018.
Then, in March, we head to Bangkok for VICTAM Asia, where we present the 9th edition of the FIAAP Animal Nutrition Conference, held March 27. The one-day event will focus on three distinct tracks pertinent to animal feed nutritionists and manufacturers: antibiotic elimination solutions, gut health promotion and alternative feed ingredients. The full agenda will be released in the coming weeks.
While we look forward to the year ahead with much anticipation, it doesn't hurt to look back at 2017.
Last year, the popularity of our most popular features ranged from formulation tips to phytogenic feed additives. Meanwhile, several of our evergreen features continue to dominate site traffic.
Here are WATTAgNet.com's Top 10 animal feed articles* of 2017:
10. 2017 Nutrition & Feed Survey: Feed additives replacing antibiotics
The 2017 WATT Nutrition and Feed Survey reveals growing trends for antibiotic-free animal feed production. (Editor's note: Keep an eye out for the 2018 survey results in the March 2018 issue of Feed Strategy.)
9. 5 advanced feed formulation secrets about minerals
Feed formulation remains 10 percent science and 90 percent experience, not because there is no sufficient scientific background to support this exercise of balance, but rather because it remains a job learned after college.
8. 7 ways to increase weaned piglets' feed intake
Learn the seven ways successful managers can entice piglets to start eating within hours after weaning.
7. 6 phytogenics questions broiler producers need to ask
Phytogenics are used mainly to enhance feed efficiency in broilers by increasing nutrient digestibility directly, as in the case of capsaisin, or indirectly, as with many compounds that control digesta microflora.
6. Animal feed formulation process explained in six steps
Learning livestock feed formulation on your own is not impossible. This article offers six steps to help you understand the process of designing formulas.
5. 5 ways phytogenics improve poultry, pig feed efficiency
Phytogenics are a family of additives with some considerable history. In fact, phytogenics have been around for a couple of decades under various names: essential oils, plant extracts, botanicals and now, phytogenics.
4. 6 fiber insights for formulating livestock feed
Learn six fiber nutrition conclusions that explore fiber as a nutrient, antinutrient and its functional components in livestock feed formulations.
3. 6 poultry nutrition, health trends shaping the future
This article identifies six poultry nutrition and health research trends that will influence the animal feed industry and poultry production for years to come.
2. Top 11 US feed-producing companies
In 2016, U.S. feed companies manufactured more than 1 million metric tons of compound feed. Find out who made the cut.
1. Top 100 global animal feed companies of 2016
WATT Global Media's annual Top Feed Companies report highlights the global compound animal feed manufacturers producing volumes more than 1 million metric tons in 2016.
*Note: This list excluded blogs, news, infographics and magazine-exclusive content.