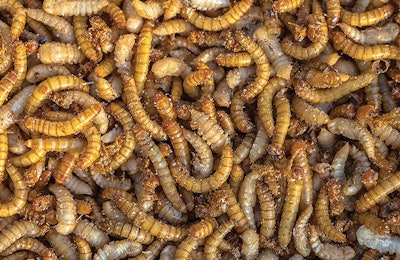 The European Commission is looking to authorize the use of insect proteins in feed for poultry — and perhaps pigs — in 2019, announced Vytenis Andriukaitis, European Commissioner for Health and Food Safety, at the first International Conference on insects for feed and food, organized by the International Platform of Insects for Food and Feed (IPIFF).
Read the entire report about insect proteins exclusively in the February issue of Feed Strategy.
This move comes as a logical next step after the Commission's authorization of insect protein for aquafeed in July 2017.
In the wake of the transmissible spongiform encephalopathies (TSE) crisis, otherwise known as mad cow disease, the European feed sector has lived without animal meat and meal proteins since 2000. Insects have been considered animal protein and covered by the TSE regulation, (EC) 999/2001, until amendment 2017/893, which partially uplifts the feed ban rule, which forbid any use of animal proteins in animal feed apart from pet food.
Current authorization is limited to seven insect species: black soldier fly, house fly, yellow mealworm, lesser mealworm, house cricket, banded cricket and field cricket.
"Whilst IPIFF does not consider that the total replacement of major [protein] sources such as soy meal to be realistic, insects may represent a new solution, notably in a context of increasing EU dependency on protein imports for animal feed," said Antoine Hubert, IPIFF president and president of Ynsect, one of the major insect product producers.
Andriukaitis believes new proteins are needed, but regulation and technical matters (analysis, for example) had to be secured before this resource could be tapped.
"You are part of the solution; I count on you," Andriukaitis said to the insect protein producers.
Beyond this statement, he confirmed that insect proteins will not be used in ruminant feeds.