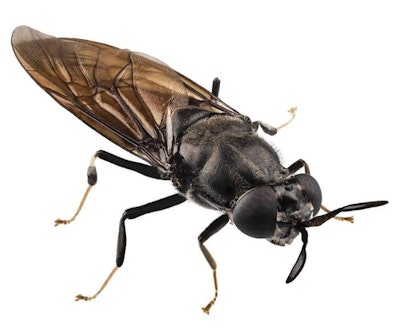 Over the next four years, scientists from Wageningen University and Research (WUR) located in the Netherlands, together with the livestock feed industry will investigate whether insect larvae are a sustainable source of nutrition for piglets and broilers. For the first time, the full environmental impact will be identified. This will determine whether providing insects could lead to a reduction of the environmental impact of livestock production. At the same time, the potential benefits for chicken and pig welfare will be explored.
Given the increasing demand for pork and poultry meat worldwide, the search for sustainable feed ingredients is increasingly important. At the same time, consumers are empowering the trend for improved livestock welfare. There is growing awareness of the potential contribution of insects as livestock feed to the sustainability of meat production, but facts are lacking at this time. That is the reason for starting a research project in spring 2018, in which researchers and industry join forces to assess the sustainability of feeding insect larvae to pigs and broilers.
Unique multidisciplinary approach
The adaptation physiology, animal production systems, entomology and animal nutrition groups will conduct the research using a unique, multidisciplinary approach. The project focuses on the environmental and welfare effects of providing black soldier fly larvae (a non-harmful insect) to chickens and pigs. This project will, for the first time, assess a complete nutrient balance of insects that grow on different waste streams. This makes it possible to determine the integral environmental impact of feeding these insects.
Researchers want to find answers to questions such as: How efficient do the insects grow on different waste streams, what do they excrete and what is the environmental impact of this? Can insect larvae serve as environmental enrichment for pigs and broilers and, in this way, reduce welfare problems?
The various groups work together on these questions, with expertise in animal behavior and welfare, animal nutrition, the environment and insects. The new facts will be combined in a scenario-analysis in which both the trade-offs between environmental and welfare effects as well as the economic consequences of different applications of insects in the diet of livestock will be assessed.
The project will be carried out by two PhD students and a technician.