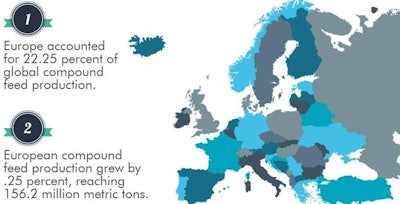 From WATTAgNet:
See what the 10 most read animal feed-related news items on WATTAgNet.com were during 2016.
---
This article appears in the July issue of Poultry International. View all of the articles in the digital edition of this magazine. We have already discussed the reasons and benefits from using a super pre-starter broiler formula during the first seven days post-hatch.
Of the 101 compound feed manufacturing companies highlighted in the 2015 edition of Feed International's World's Top Feed Companies report, 28 percent hail from Europe.
Improving feed efficiency is usually associated with improved profitability. Most measures to improve this useful index of productivity are by balancing the ratio between energy and amino acids, and (or) by improving nutrient digestibility by a number of different means. But, the feed efficiency rate can be improved even after the feed is mixed and delivered at the farm.
Modern broiler production already appreciates the value of a high-density pre-starter feed. Such "super" feeds not only enhance early growth, but they also improve lifetime performance. In systems where antimicrobial and anticoccidials agents are banned by law or excluded by preference from broiler feeds, such super pre-starters appear to require further modifications.
2016 started out busy with acquisitions in animal feed, nutrition and related industries, with five deals announced in January alone. So far this year, WATT Global Media has reported on 22 acquisitions in the sector. The acquiring companies range from large feed producers like agricultural cooperative ForFarmers to vendors like testing kit supplier Neogen.
A former accounting manager for Cargill has pleaded guilty to stealing $3.1 million from the company and causing the company at least $25 million in losses. Diane Backis, 50, was an accounting manager at a Cargill grain shipping facility at the Port of Albany, New York.
Based on the data collected for Feed International/WATT Global Media's World's Top Feed Companies report, this infographic highlights where the leading Asia-Pacific companies are located and their 2014 compound feed production volumes.
Authors of a new report published by the United Nations' Food and Agriculture Organization (FAO) warn that animal feed manufacturers and farmers should be aware that probiotic animal feed additives may not be quite as safe and/or effective as some people believe.
The latest edition of WATT Global Media's World's Top Feed Companies listing reports 102 companies with more than 1 million metric tons of compound feed production in 2015.
The edible insect sector was a buzz in late 2015 as the European Food Safety Authority published its first risk assessment on the use of insects for human and animal consumption, which states the risks involved with producing insect protein are similar to the risks involved with all animal protein.