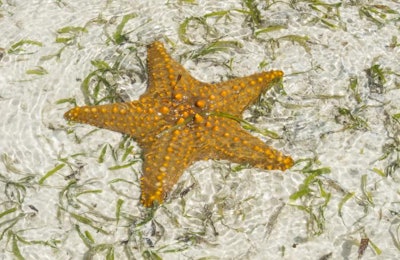 Fishmeal produced from starfish has been approved as a feed ingredient for non-ruminants in the European Union.
Inclusion of fishmeal in animal feeds was banned in Europe as a precautionary measure to prevent the spread of transmissible spongiform encephalopathies (TSEs), a family of diseases that includes bovine spongiform encephalopathy (BSE or mad cow disease).
As understanding of these diseases and the demand for high-quality proteins for livestock feeds grow, the original total ban on these ingredients is being gradually re-evaluated.
In a new development, the European Commission and European Parliament regulation that came into force in 2001, No. 999/2001 – aimed at the eventual eradication of TSEs – is being amended to allow starfish to be included in fishmeal that is used for poultry and pig feeds.
Having evaluated the risk of the transmission of TSEs as being no higher than for other sources of fishmeal, the regulation has been amended to permit the inclusion of starfish and farmed aquatic invertebrates, other than mollusks and crustaceans, for the production of fishmeal.
In order to protect the marine ecosystem, terms of the amendment stipulate that wild starfish may only be harvested for fishmeal where they are multiplying rapidly and threatening aquaculture or fisheries.
The Technical University of Denmark is a partner in the STARPRO project, one of whose aims is to evaluate starfish as a source of marine protein. The starfish have been on the rise in Danish coastal waters and they have started to consume significant quantities of mussels. As well as to control this wild "pest," the project also aims to develop a sustainable system to produce as much as 10,000 metric tons of starfish per year to reduce reliance of the feed industry on imported soybean meal. Other partners in this project are Aarhus University, Agro Korn and the mussel-growers association, Foreningen Muslingerhvervet.