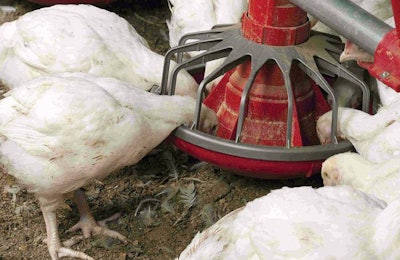 From WATTAgNet:
See what topics were the most popular in the animal feed industry in August.
---
Growers can take advantage of what is known about the natural habits and needs of chickens to provide the best conditions for welfare and performance.
The U.S. Labor Department's Occupational Safety and Health Administration (OSHA) has cited three companies in a February 2016 feed mill explosion that killed one person and injured five. The explosion occurred at a chicken feed mill in Rockmart, Georgia. Federal inspectors determined excessive accumulation of grain dust in the hammer mill area ignited the explosion.
2016 started out busy with acquisitions in animal feed, nutrition and related industries, with five deals announced in January alone. So far this year, WATT Global Media has reported on 22 acquisitions in the sector. The acquiring companies range from large feed producers like agricultural cooperative ForFarmers to vendors like testing kit supplier Neogen.
Animal agriculture mergers and acquisitions in 2016 range from large feed producers such as agricultural cooperative ForFarmers to vendors such as testing kit supplier Neogen.
I am a pig nutritionist, but I do dab into the nutrition of other species, and as I love food, I have a personal interest in human nutrition, too. What I have to say takes no great deal of education to understand: sometimes, we humans try so hard to go against nature only to end up facing a bigger problem than the one we hoped to solve.
After nearly five years, the deadline is looming. The updated Veterinary Feed Directive (VFD) will go into effect on Jan. 1, 2017. U.S. feed mills are well aware of what the VFD means for their business, but perhaps a few are still wondering – what actually happens on January 1?
In 2015, Spain produced 23.3 million metric tons compound feed, up 3.7 percent from 2014 and nearly 12 percent over the past decade. While Germany remains the largest compound feed producer, Spain overtook France this year.
Global compound feed production rose by 1.6 percent in 2014 – in part driven by the growing volumes of the world's leading animal feed manufacturers. In total, the companies featured in the this year's "World's Top Feed Companies" report account for more than 40 percent of total global production.
As many of you are well aware, the final move of medically important antibiotics from over-the-counter (OTC) to Veterinary Feed Directive (VFD) status formally goes into effect on Jan. 1, 2017. But the lingering question for some animal feed producers may be, "What actually happens on January 1?"
In the feed mill, pellet production is one of the most energy-consuming steps; therefore, the pursuit of any optimization is beneficial. Recent studies have shown that the addition of a liquid source of methionine may lead to a savings of up to 7 percent compared with the powder form when pelletizing.