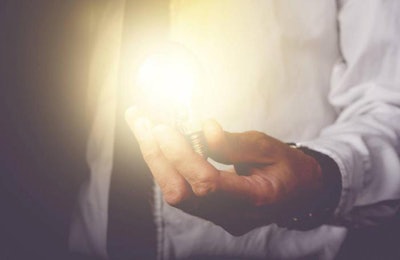 The future of the largest feed additive company in the U.S. will depend on continual innovation, according to its CEO.
On June 16, Novus International Inc. CEO François Fraudeau spoke about his views on the animal feed industry's future and where the St. Charles, Missouri-based company fits into it. Fraudeau spoke as part of a press event held to celebrate the animal health and nutrition company's 25th anniversary.
Fraudeau, Novus' chief executive since March 2014, said the global feed additive sphere is challenging because it is comparatively small. Methionine, an important amino acid animals must obtain from food, is Novus' chief product and the single largest product on the feed additive market. However, he estimated, the global feed additive business is worth about $17 billion in total, which makes innovating to stay ahead of competition essential to survival.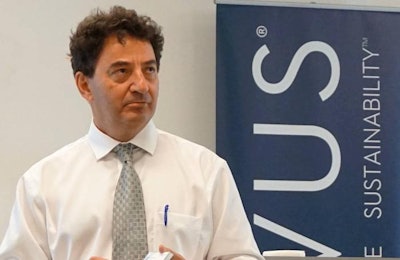 Francois Fraudeau, CEO of Novus International Inc., spoke about his company's growth strategy at a June 16 event celebrating the company's 25th anniversary. | Austin Alonzo
"We need to be ahead of innovation in the feed additive business," Fraudeau said. "We are dealing with new technologies in pretty small markets. There's a price to innovation. So when you innovate for one product … you have the cost of innovation, but your marketability is not that bright."
Because of that, Novus must consider the current and future shape of the market and invest carefully to maintain a leading position in its field.
A vision on the industry
Fraudeau said agriculture, and specifically the animal feed business, will continue to rise along with the size of the world's population and household incomes. As people get wealthier, they eat more meat. More meat demands more natural resources, which some countries lack.
China for instance, Fraudeau said, has a large percentage of the world's population and only a small percentage of the world's arable land. The country is addressing the challenge of feeding its population by improving technology, its farm management practices and importing what it lacks from other countries. Fraudeau thinks this trend, of countries improving their farming technology and collaborating through trade and investment, will continue as the world's most populous country and the rest of the globe work to feed a growing population. He said this will create agricultural growth opportunities for African and Latin American nations, too.
Along with depending on trade, the world's agriculture industry will need to become more sustainable to conserve scarce resources as agricultural activity increases. Fraudeau said he believes technology to improve crop yields, protect animal health and reduce food waste will be essential in the coming years.
Novus' growth strategy
With that in mind, Novus is focusing on two main platforms: keeping its core business strong, and investing in new, specialty technologies.
Fraudeau said investing in the methionine operation is essential because it is a leader in the field and it's a reliable business. Methionine, he said, helps reduce the cost of production of chicken and other animal protein. The amino acid also aids quick animal growth and helps improve feed conversion.
As for investing in technology, Novus is taking a more varied approach. That includes technology to preserve the quality of cereals and animal feed as it is shipped long distances and researching new feed additives.
Fraudeau explained the world's struggles with preserving the quality of grain as it is shipped over continents and across oceans. Novus is looking into technology to better preserve the quality of those ingredients. The company is investing about 5 percent of its sales in optimizing its methionine production and development of those technologies.
New feed additives
Novus is also investing in developing new feed additives and specialty animal health products. Over the past few years, Fraudeau said, the company refined its approach to these products – it's no longer working on vaccines or pet supplements – and is now focusing on organic trace minerals, feed enzymes and eubiotics, or products designed to help transition away from antibiotic use in animal agriculture.
Fraudeau said there is room for innovation in the supplements that help optimize feed digestibility and, in turn, make farming more sustainable. As for eubiotics, he said the United States, and more countries around the world, make a strong market for products that can help farmers maintain the performance they expect without using antibiotics.
Novus is also looking into a small health supplement business. Fraudeau said the company is considering applying some of the same technology for animal nutrition to human nutrition. Novus has already acquired a small company that uses egg shell membranes for human joint health. For now, he said, this idea is in its infancy and Novus is not investing significant resources into the business.