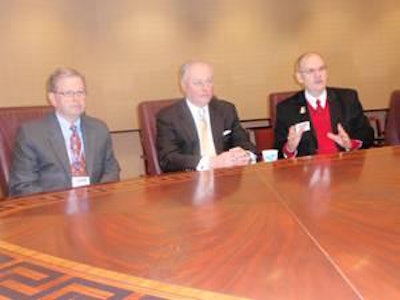 The combined International Poultry Expo/International Feed Expo/American Meat Institute show will remain in Atlanta, Ga., through at least 2016, and its location after that will depend entirely on where exhibitors and attendees want to see the show located, according to the heads of the three associations that are co-locating their shows. Rumors that the show will be moving back and forth between Atlanta and Chicago are only show-floor rumors, and any decisions such as that are years in the future, they said at a press conference on January 26.
John Starkey, president of the U.S. Poultry & Egg Association; Joel Newman, president of the American Feed Industry Association; and J. Patrick Boyle, president of the American Meat Institute, said that the three associations are co-locating their shows, a logical progression for all three organizations. "We've been in these discussions for several years," said Starkey. "For all three of us the time was right to make this move."
According to Boyle, the American Meat Institute's move to an annual spring show a few years ago made the co-location of the three easier. "When we were a biannual show, it would have been hard to do this," he said.
The show organizers predict that the addition of the American Meat Institute show could add 100,000 square feet to the 2013 event, up from approximately 300,000 square feet this year. The show's configuration probably won't change much, with the feed and poultry live production exhibitors in Hall A, with Hall B being filled by the current processing exhibitors from IPE and the additional American Meat Institute exhibitors. "Reaction from exhibitors and attendees to the news has been overwhelmingly positive," said Starkey.
The three associations will continue to operate independently, and each will offer targeted education and networking opportunities to meet customer needs and complement the expo.