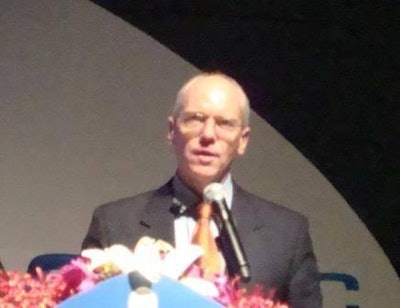 The tenth edition of VIVAsia – VIVAsia 2011 – is currently being held in Bangkok, Thailand. Alongside the main event, the first edition of Aquatic Asia is taking place, as is FeedTech-Croptech, the dedicated event for the Asia-Pacific milling industries, with a conferences held in association with WATT.
Held at the BITEC, the first day also saw ChinaVisions, a seminar dinner, held for the first time, with some 300 attendees.
According to the FAO, livestock production in Asia has increased six-fold over the last 40 years. Commenting at the opening ceremony, VIV director of exhibitions Gerard Leeuwenburgh said that the Asian economy was growing at a tremendous pace, and that economic and population growth were driving livestock production.
He revealed that the event had attracted 20,000 preregistered visitors and that 48 countries were represented at this year's event. The top exhibiting countries include China, Thailand, France, the U.S. and Germany – a record for VIV Asia. There are nine country pavilions at the show.
277 companies are completely new to the event, and exhibitors active in the compound feed industry are 20% higher than the last edition. 31 companies are taking part in FeedTech CropTech.
Changing world
David C Nelson, global strategist, animal protein grains and oilseeds with Rabobank noted that increases in grain yields were failing to keep place with the growth in demand for protein. Crop prices have risen, meaning that producers must increasingly look to innovate.
China, for example, is expected to import 60 million metric tons of soyabeans this year. 12 years ago this figure stood at zero. The demand for grains for feed will also increase as a result of increased industrialization in animal protein production.
He also noted that, within two years, Russia will become self-sufficient in chicken production, sounding a warning to those countries that currently have Russia as an export destination for their poultry products. He continued that the country was also moving towards self-sufficiency in pork.
Turning to Thailand, the country's Minister of Agriculture, Theera Wongsamut, pointed out that despite difficulties with avian influenza, the country's poultry industry had bounced back, had learnt a lot and was now better placed than ever to deal with bird flu outbreaks.
He noted a similar situation with the country's aquaculture sector, pointing out that despite disease outbreaks in 1990 and 1996, the country was now one of the world's leading shrimp exporters.